A Jaunt Around England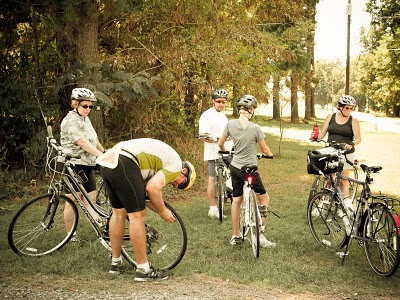 Mandy's bike needed an inaugural ride, so we planned a loop through from Scott to England and back to Scott (we didn't do the spur to Toltec this time). I didn't realize it until partway through the ride, but this almost-thirty-mile loop is by far the longest Mandy's ever ridden on her own bike (as opposed to 'ridden as the stoker on a tandem.') We invited our friends Gordon and Lois to come along for what was also Lois' longest ride up until now. Kathy decided to join us as well.
We picked up another cyclist just five miles shy of our ride's end. She was alone and was at the side of the road working on her bike. We stopped to help, and Bryan found that she'd broken some spokes. He was able to get her wheel straight enough that she could ride back toward Scott, and she called a friend to meet her there.
---