Bike touring is essentially backpacking, on roads, with wheels. Touring bikes have a different frame geometry than road bikes do, they're geared differently, and there are more attachments for racks and extra bottle cages. Everybody has a different setup for touring: John refuses to buy a touring bike at all, so he doesn't have any way to carry bags; he just has a really nice light trailer with a big drybag on top. Brad rides a Bike Friday with yellow Ortliebs. Some people carry tons of stuff. I carry a lot less. Everybody's a little bit different.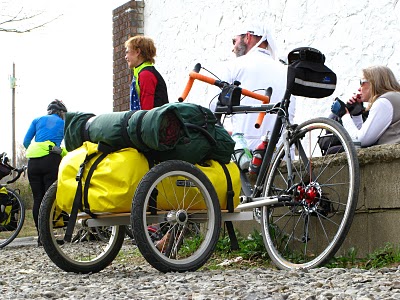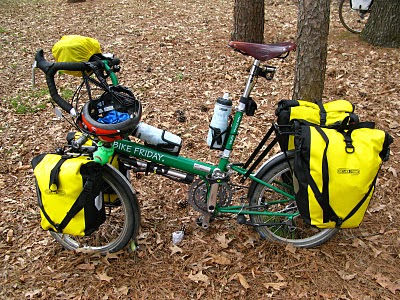 The venerable Voyageur began its life as a touring bike. At some point in its history I've swapped the touring gears for a more road-bike-like setup, so that needs to be switched back at some point. We've spent the last couple of weeks upgrading brakes and adding doodads and getting it ready for a trip.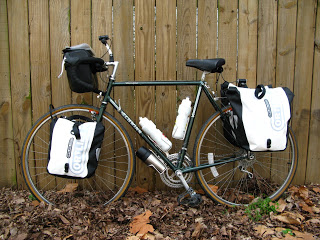 For this weekend, the local bike club planned a "beginners tour" of three days and two nights. Scheduling issues meant our family was only going to do half of the ride, but that was okay. Then, Friday around lunchtime, Mandy suddenly came down with some bug and I had to pick her up from school; her fever meant that she couldn't go on the ride at all. Bryan suggested that he could stay with her so that I could join the group. I hung around home until her fever broke and she was resting comfortably, so I didn't arrive at the Toad Suck Campground until well after dark. Saturday morning, I packed up my bike with fourteen other riders and we left the campground.

Our route took us through Bigelow, over Wye Mountain (with its acres of daffodils), through Little Italy and Roland, and past Pinnacle Mountain.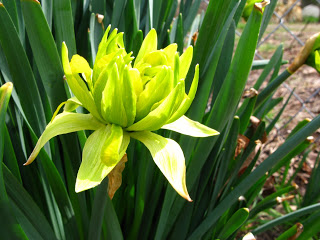 We pulled into Maumelle Park at about five, still ahead of the rain. Under towering pine trees, the group worked together to set up their little tents. Since I wasn't spending the night, I took some pictures and helped Diane set up her camp.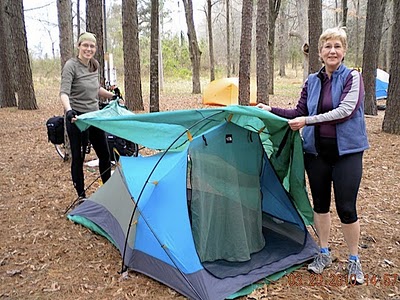 Bryan and Mandy arrived just in time to say hello to all the riders before it began to rain. The first drops splashed on the Voyageur as I loaded it into the truck. The bike performed flawlessly on its first packing trip. The new racks and panniers and lights worked well, and the company was good, and I think we both enjoyed the day.
(Thanks to Jenny Blue Sky for the group photo and the picture of Diane and her tent.)