A couple of months ago, we gave Mandy a present: A plain white envelope. Inside was the receipt for her 'ticket' to participate in the Bon Ton Roulet, a seven-day supported bike tour around the Finger Lakes in upstate New York. It's her first trip in that direction, and more importantly, it's her first trip out of state without parents.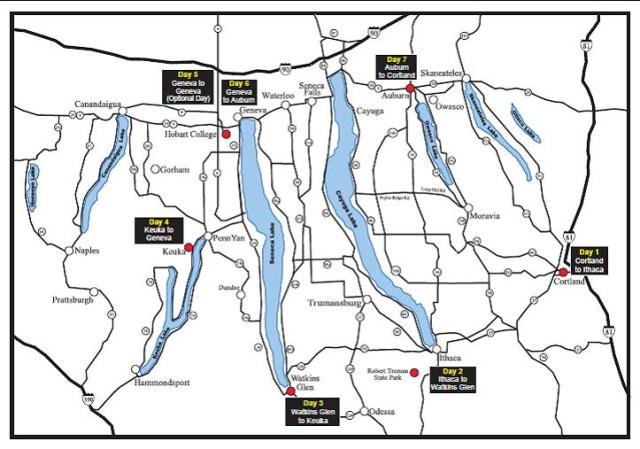 We dropped her off at the train station for a late-evening departure on Thursday. She was to travel with our friend Kathy, as well as with a couple of other women cyclists from the Little Rock area. We sat with them for a bit but left before the midnight train arrived. Mandy had really been looking forward to even this part of the trip – she was by far the youngest in the group, but as the only one who had traveled on Amtrak, she was ready to provide a tour of the facilities! They sent texts from the train: they'd arrived in St. Louis a bit late, they'd left the train in Chicago, they'd used my notes to find stuff to do during their layover, they'd boarded their new train for Syracuse.
The message from Syracuse was the first that indicated a problem. The group got off the train at their stop, and the bikes got off the train with them, but Mandy's duffel bag had apparently not been unloaded by the Amtrak people. Our group had caught the shuttle to the town where the ride would start the next day, and Amtrak had promised to send the bag to them by taxi as soon as it was found.
We got more reports from them: They set up camp. Mandy was all set to spend the night in Kathy's tent. The nice ride organizers gave her a couple of volunteer shirts from past years' rides, and they were confident that they'd receive the missing bag the next morning.
But that didn't happen, because the bag wasn't found at the next train stop. It hadn't been on the train with them at all. Amtrak did not, in fact, have any idea where the bag was. And so our traveler began a seven-day bike ride in a pair of shorts kindly loaned to her by a fellow rider, having spent the night in someone else's tent, with no sleeping pad.
We really didn't need to worry – she was handling things just fine. She had her new bike, and her trunk bag with tools and emergency snacks. She had her helmet and gloves, because they'd been packed in the box with the bike. She had her bathroom bag and her phone and Kindle and sleeping bag, because they'd been in the overnight bag she'd packed for the train trip. Everything was fine, she said.
And the first day of the trip was a good day. An important part of any story, for her, is the food – and the food provided by the ride organizers was good. The breakfast was yummy and the snacks provided at the rest stops were so varied and plentiful that Mandy and Kathy didn't stop for lunch. It was fun to ride with so many other nice people, and the I-have-no-clothes situation provided a good topic for discussion.
At the end of the day, the bag hadn't arrived. Kathy said that the Amtrak people found it, but they were vague about what was going on. From home we'd learned that the town of Auburn, where the group was camping for the night, had a couple of chain sporting goods stores. Kathy talked to the ride organizers, who hooked them up with a local volunteer to give them a ride to town. They bought a pair of bike shorts for Mandy, and a couple of other things she needed. To make it even better, the volunteer turned out to be someone involved with a historical society in town, so she gave them a tour of the older parts of town on the way back to camp. Another rider loaned her a sleeping pad for the night, and she shared Kathy's tent again. Everything was good, she said.
On Monday, I got a phone call from the lost and found department at the train station in Chicago. The very capable and kind man who runs lost and found explained that Mandy's bag had turned up there over the weekend, when his office was closed. We figured out where Mandy would be camping on Tuesday evening, and after a few phone calls to Keuka College, I got in touch with someone who could sign for a FedEx package and get it to our traveler.
Tuesday afternoon – four days into a seven-day bike trip – Mandy got her bag. We got a text with a photograph of a very happy girl, sitting outside her own tent.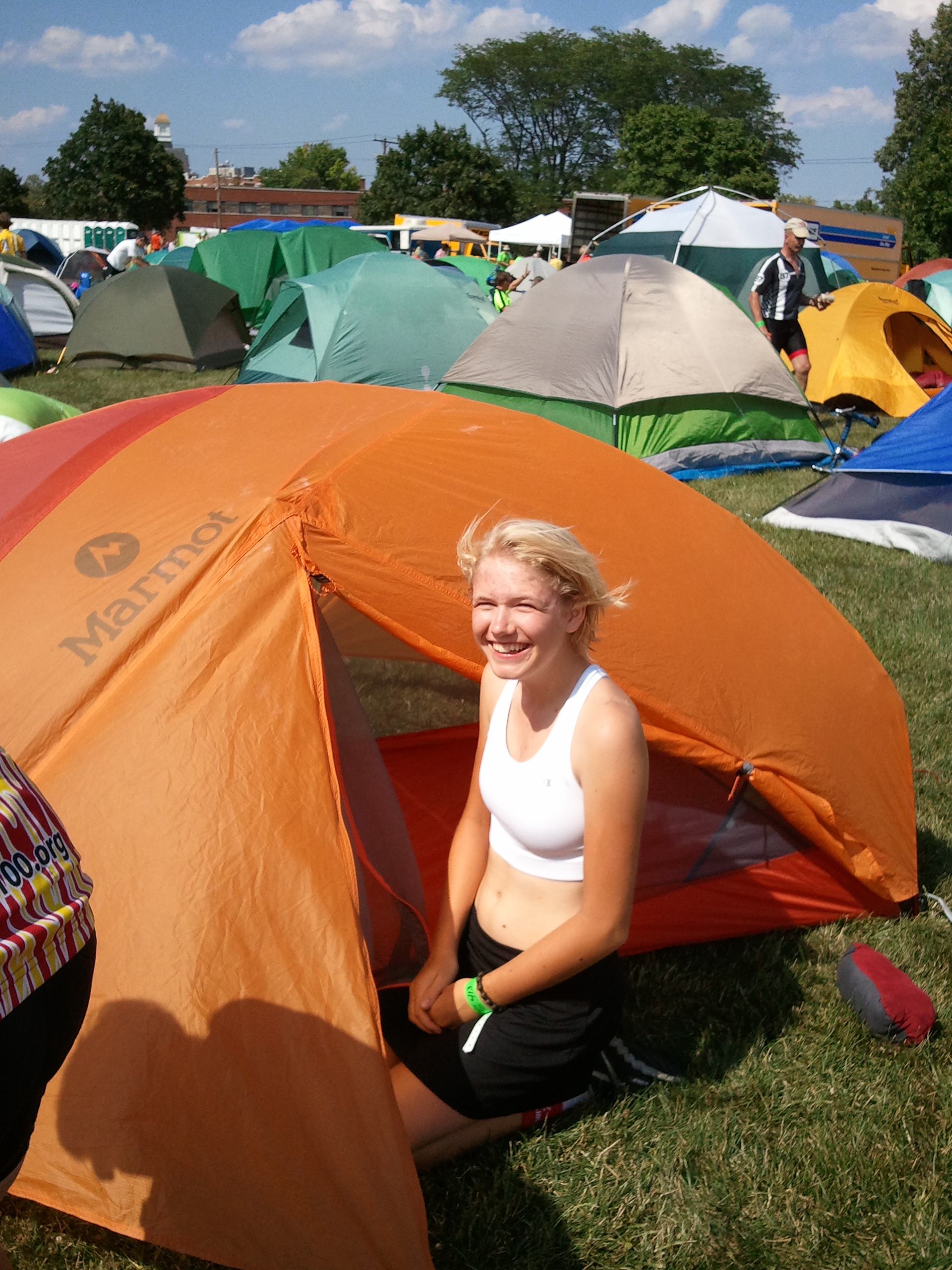 The rest of the trip was good. We got occasional messages from her, and a phone call or two. She was having lots of fun, enjoying riding in the pretty country in between the lakes. She was enjoying having her own tent, and clean clothes. The temporary loss of her bag, she said, had made her realize some important things. One was that we hardly ever really need all the things we pack – in a pinch, we can do without, and still have fun. And without the lost bag, she said, she'd never have had a tour of historic houses in Auburn, New York. She'd have missed out on learning about the kindness of people who helped her. It turned out that she kind of enjoyed the odd notoriety the lost bag brought to her, among the couple of hundred riders in camp – she was one of the youngest riders, so she already stood out, and lots of people knew about her problem and asked her about it. Every time she walked across camp, she said, she'd meet somebody new who wanted to know how things were going.
From there they rode on to Watkins Glen, where they spent their 'rest day' hiking at a nearby park. The food, she said, was top-notch. Then on to Ithaca, and back to Cortland, where they spent one more night before catching the shuttle to the train station in Syracuse. There was another train ride to Chicago, an afternoon spent on a mission to find real Chicago pizza before getting back on the train for St. Louis, another short layover there before getting back to Little Rock in the wee hours of Tuesday morning. Kathy dropped her off at home before going home herself, and when we woke up, we found a tired, happy kid sleeping soundly in her own bed.
We've always tried to travel without expectations – we leave home with a plan (often a fairly detailed one) but when that plan has to change, as it almost always does, we work hard to roll toward the new adventure. Once that meant leaving home to go to the Grand Canyon but ending up in Saguaro National Park instead. Once that meant changing a four-night backpacking trip on the Continental Divide to spending a few days in a motel in a kitschy mountain tourist town. Whatever it is, we know it will be fun and interesting and we'll learn from it. Saguaro was beautiful in the snow. Kitschy mountain tourist towns almost always have a good bakery.
Mandy had a chance to practice that on her own this week. I think a lot of fourteen-year-old girls would have been completely derailed by the prospect of a multi-day bike trip with no luggage, but Mandy handled it beautifully. At the end, she didn't have a list of complaints – she had a list of ways a problem became an adventure, and I was very proud of that.