This is a multi-part trip report, if you haven't already you should start with Part 1. Remember too that you can click on any of the photos to see larger versions of them.
Up before sunrise, we leave the tents and bundle up to drive to Great Sand Dunes National Park. The outlines of the mountains and dunes are visible as we get there, and we walk out into the softly lit sand (and cold wind) to watch the sunrise. The Sangre de Cristo mountains look distant still, in misty dawn light, but the dunes glow warm and pink as morning comes.


Click to see this panorama in a bigger size!
After some time spent taking photographs dunes around us, Mandy and I leave Bryan with his tripod and walk toward the nearest dunes. We reach the top of the first one just as the first rays appear.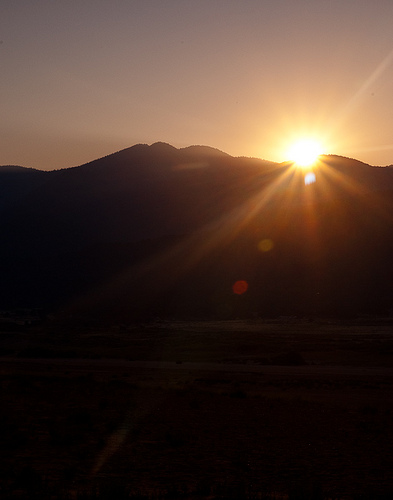 Mandy stands at the lip of the next dune, with her camera held up. She looks for all the world like a very short National Geographic photographer, working in some exotic and dangerous foreign assignment. It's only for a moment, though; she holds her arms up, yells, and plunges down the side of the dune, suddenly a little kid again.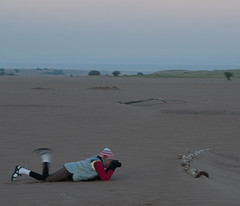 After a stop at the small but excellent visitors center, we fill out postcards and eat breakfast at the restaurant just outside the park. The food's no good but the decor features a mounted head with an antler protruding from the stuffed thing's forehead.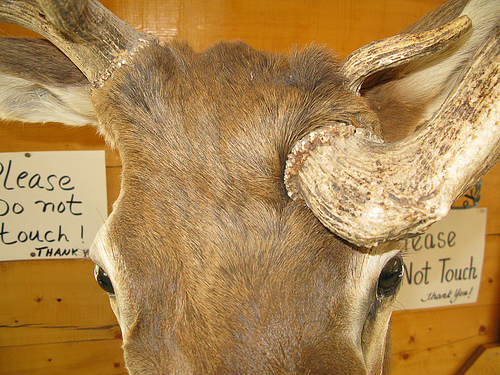 We make a quick stop back at San Luis Lakes to pack up camp, and Bryan naps in the car until a stop in Blanca where a detour to the tiny post office leads us past a fence made entirely of cross country skis.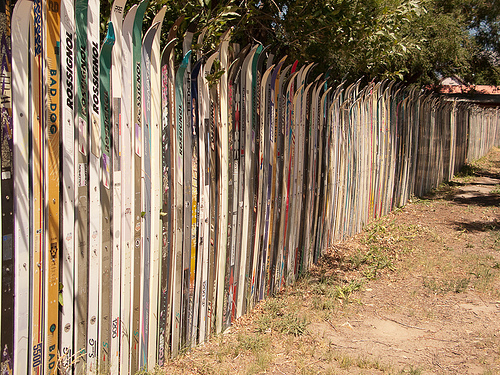 In Pueblo we stop at Chipotle for an excellent lunch, and I nap until Colorado Springs. The drive up the front range is pretty, made even more fun by Mandy's excited amazement. "It's so beautiful," she says. "Wow, look at that one!"
The REI "Flagship Store" in Denver is huge, an old brick warehouse converted into a store, with exposed metal beams and a 45 foot indoor climbing wall. Arriving only an hour before closing time on Sunday afternoon, we practically jog through the store, stopping long enough to snag a few items on our list, including a new harness for Bryan and some purple climbing shoes for me. The store sits near the river, and there's a little park on the grounds with boulders for kids to climb on, statues of animals, and aspen trees. It's right on a walking and bike trail, next to Confluence Park's water play area. Even on a Sunday evening, the park is crowded with inner tubes and pool noodles and people splashing in the shallow water. The whole area is very busy, not with cars but with people on foot and on bikes.
In Boulder, we drive around until Bryan finds a place in memory: the Pearl Street Mall. It's a great outdoor shopping area with interesting stores and street performers and the smells of good food. After stuffing ourselves silly on pasta and cheesecake, we walk back to the car and drive to Rocky Mountain National Park.
We arrive late but the Moraine Park Campground people helpfully list the names of the campers arriving after the kiosk is shut down; we quickly find our name and campsite number and set up tents, again, in the glare of the headlights. We've driven 1353 miles since leaving home, and we'll sleep well tonight at over 8,000 feet.