We heard at the last minute that Ian Sims, the founder and CEO of the Australian recumbent trike company Greenspeed, would be visiting Little Rock late this afternoon. It was very cool to meet him (and Greenspeed's US marketing person, Deanna) and ride the X5 trike they brought with them. (BOO CHAINWHEEL BIKE SHOP STAFF, for your total lack of marketing and general pigheaded ignorance about this event.)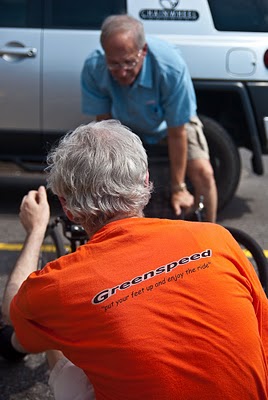 After a nice supper, since we had our Greenspeed GTT in town with us, we went out to Two Rivers Park for an early evening ride. The weather was perfect and the park was uncrowded. I wonder how much more traffic those paved trails will get after the new bridge is completed?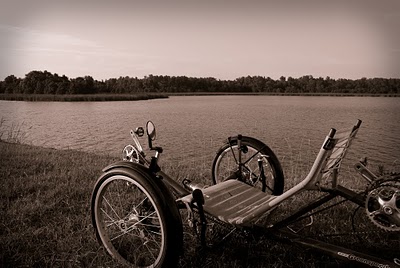 Then we headed to MacArthur Park, near the Arkansas Arts Center, to watch the Little Rock Bike Polo club play. They use an old tennis/roller hockey court that's only half-lit, so they bring their own lighting for the other half and run extension cords across the grass. And what they do looks like a ton of fun.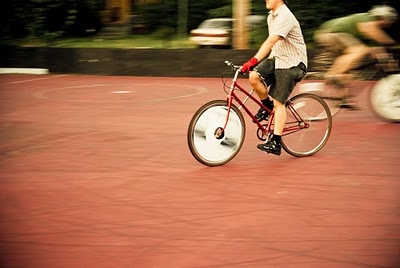 It would be easy to say "we don't have time to play" or "it looks dangerous." It would be easy to say "what a silly idea."
But when I'm all used up and it's time for me to die, I want to say things like "remember the summer we played bike polo? Remember how the weeds grew up the sides of the court, and how we drank cheap beer in the dark, and how we laughed?"