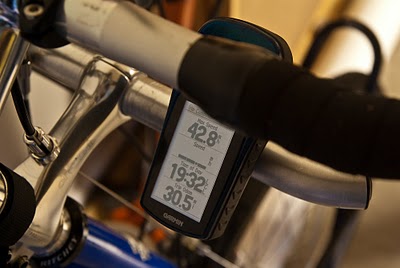 So today I finally got to take the LHT out for a good first ride and we drove to Little Rock to meet up with the Arkansas Bicycle Club's "Sunday @ 1 o'clock" ride on the River Trail.
At the end of the ride, mind you this was after 29 miles of riding and a stop at the Community Bakery, I decided to ride up River Mountain Road (see route map below, make sure to check out the elevation profile!) and see how well the Trucker climbed since it was geared about 25% lower than my previous bike.
I'm pleased to report that the LHT climbed amazingly well. I stopped once on the way up for a 60-second water, leg and lung break and then finished the climb. I don't think I've ever made it up that climb (c:
On the ride down, I tucked into the drops, watched the road ahead of me and bombed down the hill. The bike tracked perfectly and wasn't twitchy at all. Being a touring bike, I was afraid that it might be twitchy since it had no baggage today.
After arriving back at the car, I checked the "max speed" on my GPS (shown above) and was flabbergasted to see it say 42.8 mph! I wouldn't have guessed that based on how the bike had performed and I definitely wasn't trying to go stupid fast. Mandy and I have had the GTT up to ~42 mph before but I've never had a normal bike above 30-35 before.
All told, today was a nice ride though I wasn't able to keep up with the main group since I had to stop and adjust my saddle twice. First time it was nose down which put too much weight on my wrists and the second time it was nose high which put too much weight on my parts and pieces. I think it's about right now though.