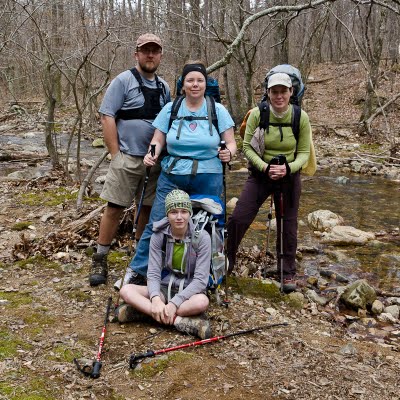 Our good friend Kathy is a good campground-camper, but had never backpacked. She likes being outside, but she'd never actually carried all her stuff on her back and spent the night in the woods far away from everything. So we all decided that we should fix that. We picked her up after work on a Friday and drove to Shady Lake campground to spend the night and be ready for an early start on Saturday.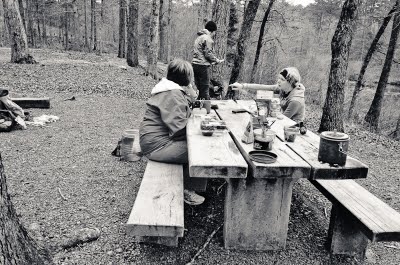 We parked the car at the Buckeye Trail trailhead and started our hike. The day was warm and breezy, perfect weather for a first backpack trip. Usually, trails in Arkansas tend to have a lot of up-and-downing, so a morning cruise along a flat ridgetop with nice breeze and good views isn't very common here.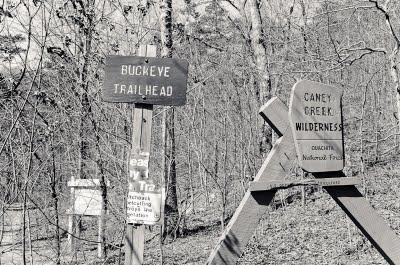 The trail stayed high for several miles before starting its steep decent to Caney Creek.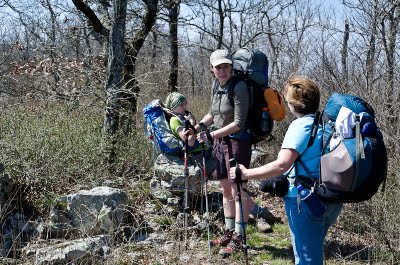 Kathy slipped once coming down off the ridge, but apart from that our hike was pleasant and uneventful. We intersected the Caney Creek trail near Katy Falls.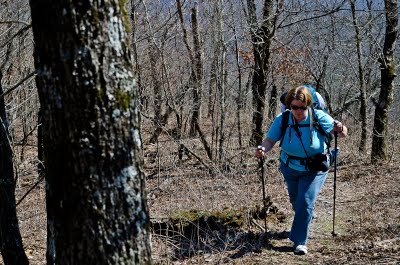 Kathy had been a little concerned about our water situation. She'd never used a water filter to filter creek water before, but a good explanation of the process made her feel better. Kathy and Mandy pumped water for the group while Bryan and I scouted around a bit to find a good camping spot. Click the photo to see the panorama in a larger size.

These violets were growing on the edge of the trail.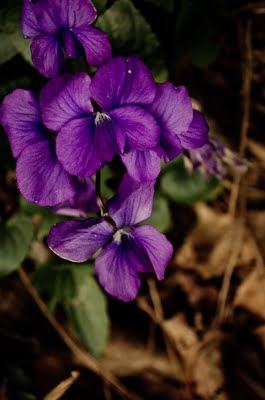 The best spot we found for camp was across the creek at a spot deep enough we didn't want to wade through. Scooting across a big fallen tree, Bryan lost his balance and scraped himself badly on the bark. He managed to land feet-first in the water, keeping his gear and camera dry, but at the expense of a lot of lost skin on the inside of his arm.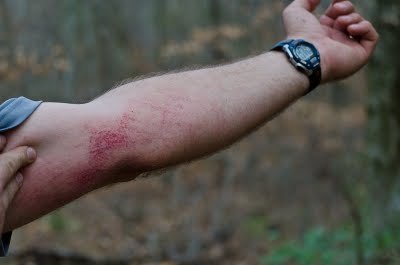 Relaxing in camp feels even better when you've worked hard to get there. I'd brought my hammock just because I knew that Kathy liked it so much.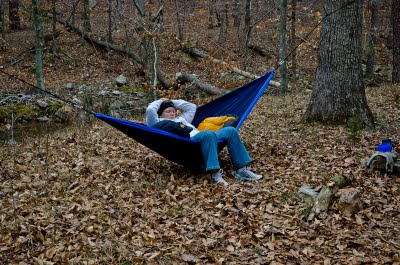 Kathy's knee was sore on Sunday from her twisty fall the day before, but we hiked out along the Caney Creek trail without many problems. This trail has lots of creek crossings which can be good or bad depending on the time of year.
Mandy and Kathy waited at the trailhead, one resting and the other memorizing pi for bonus points on Monday. (She learned 78 digits.) Bryan and I left our packs with them and walked up the road to retrieve the car.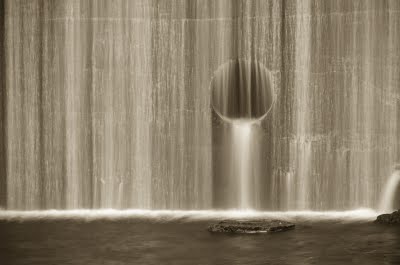 We stopped again at the dam at Shady Lake. Bryan stayed there while the rest of us backtracked to retrieve Kathy's glasses, which she'd left on the trailhead sign while changing into clean clothes. He took some great photos at the spillway before we returned with the glasses and finally headed home, with a well-deserved stop in Glenwood for a top-notch Italian supper.