This is a multi-part trip report. If you haven't already, you should start at the beginning. Remember that you can click on any of the photos to see larger versions of them.
Click here to see a map of todays travels.
The train's late. I think the train's always late. I've been sick all week, with a sinus infection, or allergies, or SOMEthing. We skip supper because all the drive thrus between our house and Little Rock have lines about eight miles long. We get to the station in plenty of time tonight, though, and box up our bikes and sit in the old station, waiting.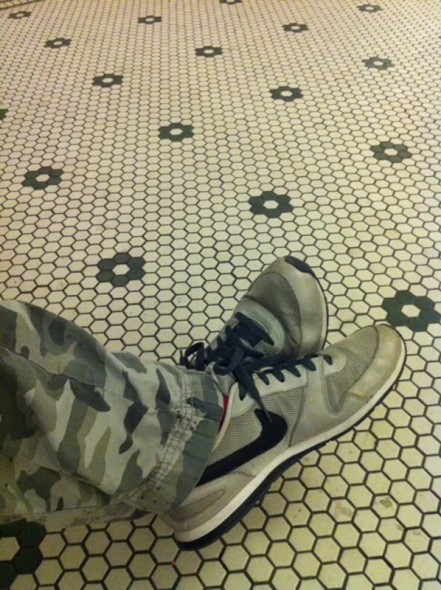 Later, we settle into the lower coach of the quietly sleeping, nearly-full train. Bryan's in a window seat next to a person-shaped blanket. Mandy's on the aisle next to a grandmotherly-looking older woman who snores loudly. My seatmate is a middle aged woman with a half-full catheter bag. There's something very wrong with her, though we can't really have a conversation about it – her speech is garbled and confused. I move carefully as I doze, afraid to hurt her. But in the night, when my sleeping bag falls from my shoulder, I feel her pull it up and tuck it in around me.

I love the train. I get up, because I'm coughing and I don't want to wake the woman. In Poplar Bluff, the conductor wakes her and helps her into her wheelchair to get off the train. Mandy's snoring seatmate gets up to stand beside the wheelchair until the train stops at the station. When I get back to my seat, the blanket next to Bryan has been moved aside to reveal a woman, now awake, who gives me cough drops to help me rest.
After Poplar Bluff, Mandy moves over to the seat next to mine and curls up under the sleeping bag, her head in my lap. At dawn, she goes with Bryan to get breakfast (snacks due to the dining car being broken). Now I sit cross-legged, alone in our seat, drinking coffee and watching St. Louis wake up outside our windows.
I love the train. It's familiar and simple and always slightly broken. It feels comfortable but still adventurous, like a cave suit or a climbing harness or a backpack that smells funny, but that's okay because it has pockets in all the right places.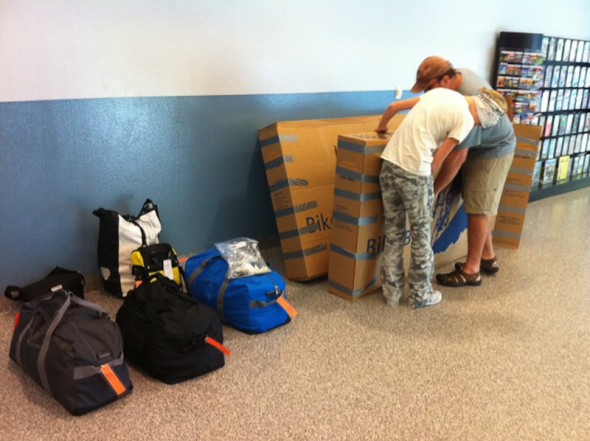 We unbox our bikes inside the station in St. Louis, and leave the boxes there. We all get on the light rail with our bikes and our duffels, only to realize it's the wrong train. It takes nearly an hour to fix our mistake, but by the time we're headed the right direction we're already feeling more confident about getting on and off the light rail.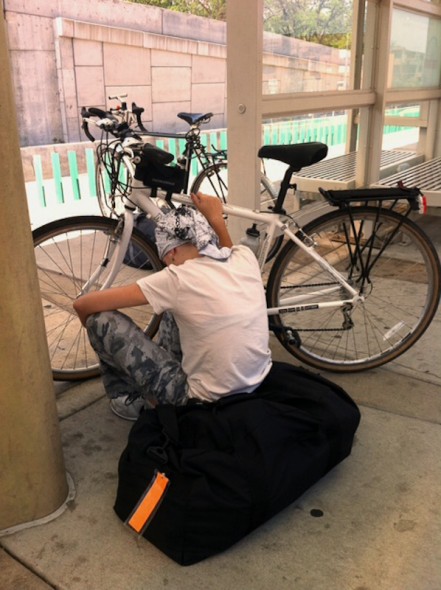 Mandy and I get off at the Wellston station and walk to the nearby bus stop, where we wait in the hot shelter for a half hour to get on bus 94 across town to Westport Station. Bryan gets off one stop later, but bus 33 is already there, so he beats us to Westport by nearly a half hour. Once there, we head up the hill to McDonalds. It's not the breakfast we wanted, but since it's nearly noon, it's what we get.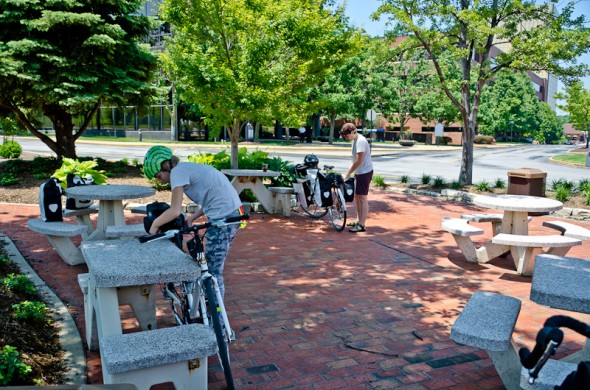 Some time spent in the shade with some picnic tables moves the contents of our duffel bags into our panniers. We adjust my bent fender and set off through traffic and hills to Creve Coeur Park. I'm still having sinus trouble and my chest hurts, so it's a relief to stop to rest at the park, and an even nicer feeling to get on the quieter bike trail there to connect to the Katy Trail.
In St. Charles, there's a short ride on city streets to the Bass Pro Shop – we need stove fuel, and Mandy forgot her sunglasses. I'm miserable – it's hot, and I can't breathe. I take my drink outside and wait in the shade with the bikes and take off my old toenail polish with a pocketknife. Then it's a pleasant ride through historic neighborhoods to get to Amy Crews' mom's house, where we'll spend the night.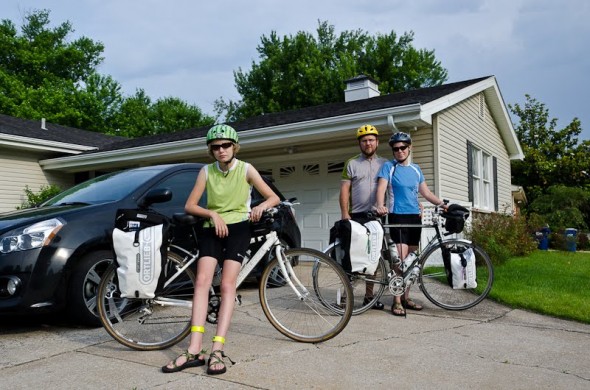 Amy's not able to join us as planned, so we're in the strange position of knocking on a stranger's door. We meet Amy's mom and step dad and also two dogs and Romo, the cat.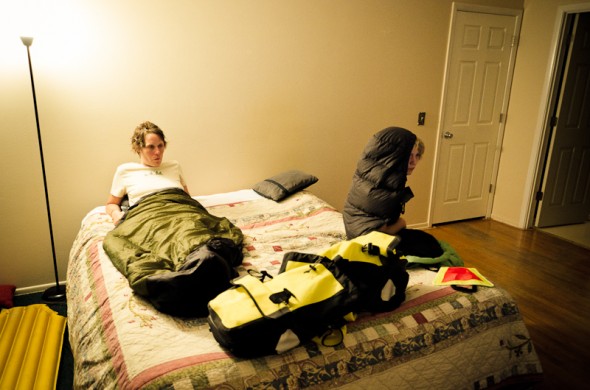 After a lovely air-conditioned nap, we're back on the old neighborhood streets to supper at the Trailhead Brewing Co. Their Caesar salads were perfect, their local beer excellent, their fish sandwich substantial. We're back at the house in time for good showers and a regular bedtime.
Today, Mandy finished her first Amtrak trip, her first light-rail commute, and her first city bus ride – all while managing a touring bike and a duffel bag. She did well, but she's worn out, already snoring lightly on her pad in the corner.