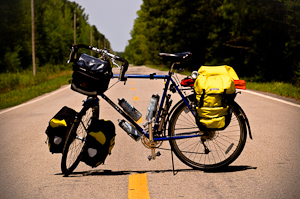 We met Gordon and Lois and the girls for a two-day trip from the Lake Sylvia area out to Forked Mountain to spend the night. It was a great ride – about 35 miles almost entirely on gravel, with some swimming and camping in the middle. It was peaceful and quiet and traffic just didn't exist. Some of the hills were steep, but I figure that's what I have feet for. The bombing downhills were scary fun, but so hard that I twisted the headset on the Voyageur once as I fishtailed through loose gravel. We got sunburns and dirt in our eyes. Three of our group bailed halfway through, but the rest of us had a fine time.
There's more gravel-road touring in our future; I'm sure of it.
PS – The photo of Bryan's bike up top doesn't actually have anything to do with this trip. But we didn't have any decent photos from this weekend, so we're pretending that it belongs here.