Once upon a time, a bunch of friends wanted to go paddling. They scoured the land for a river that was not too dull for the skilled paddlers in the group and not too difficult for the rank newcomers. They found themselves beset by many obstacles. Many of the potential paddlers did not have the gear for the journey, and those who had gear to loan lacked space for it in or on their trusty Subaru steed. One of their number fell by the wayside, while others joined the expedition at the last-minute. Despite the challenges the group faced, through careful planning and preparation, they managed to get to their destination – the Lower Piney – unscathed.
Our group convened at a handy McDonald's in Conway. All together we had our family, Mitch and Rachel, Chris, and Cole in two vehicles when we left lunch. Yes, lunch. A late float is often a better float.
At the take out we were happy to see our friend Ti and his son. I was especially excited about this trip, because Ti had brought one of his C1 boats to try, which was awesome because I had been eyeing them for a while, and more importantly because my doctor said a pedestal would be better for my back than a kayak seat. (A C1 boat is basically a kayak with a canoe pedestal installed. You wear a skirt, only have one paddle blade, and kneel instead of sit inside of the boat.)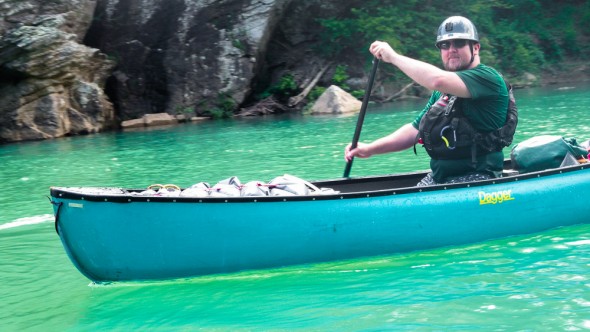 Mom and Bryan are still playing around with the whitewater canoes we've borrowed from Steve Shepherd, but I really enjoyed paddling the smaller, quicker C1.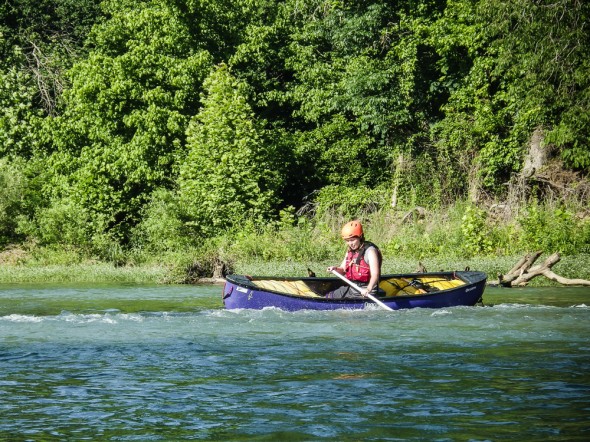 I think all three of us have been pretty surprised about the way it feels to paddle canoes. After a year spent getting used to kayaks, it was weird to find that moving a bigger boat with a single-blade paddle was so different. But after playing with the boats and getting some good instruction, I think we've all been happy about how much fun we've had in the canoes. We'll need to give Steve's boats back soon, but I think we'd all like to have a whitewater canoe around the house.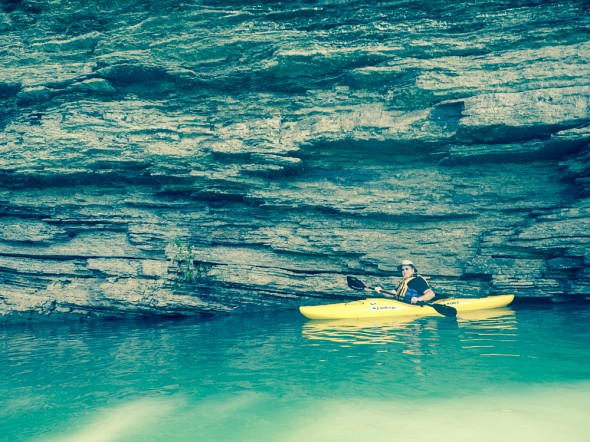 The Lower Big Piney is very pretty and also tons of fun. It has lots of friendly little play waves in mild rapids that are punctuated by only slightly annoying long pools. It also has tons of potential for stupid jumping off of stuff.
I think we all noticed the rope swing on the bank of one of the pools, with some people playing around it. I doubt any of our group would have visited it if it hadn't been for Chris, who made a beeline for the rope. He got out and started to put his boat on the tree. Cole climbed up into the tree and jumped before Chris had totally situated himself. (Cole said he wanted to swing before Chris broke the rope.)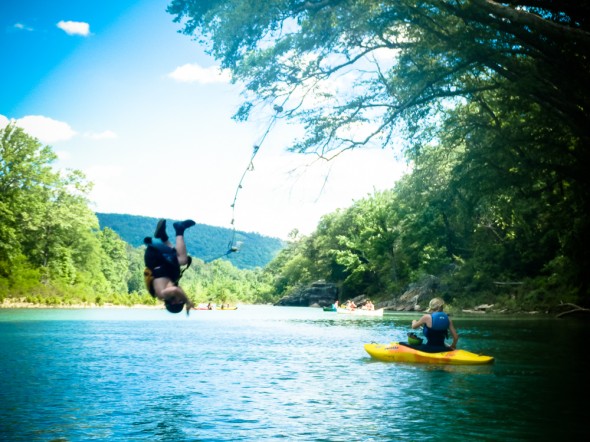 After Cole's pretty good upside down cannonball, Chris got a push from a friendly stranger, and swung out semi-gracefully onto the water. The rope remained intact. Mom wouldn't let me jump because of my back.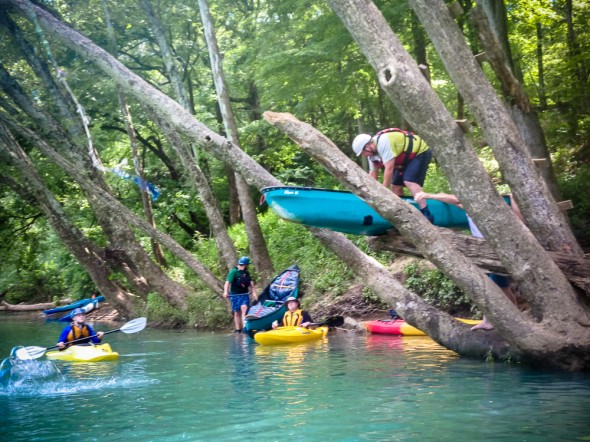 After the rope swing, I guess Monkey was looking for a bigger jump, and she found one. As we rounded a bend in the river we saw a woman jump from a bluff about 25 feet into the water. Well, of course Monkey had to clamber up to try it, too . This time she landed weird on her hand, and couldn't feel it for awhile. Hurt hand or not, it looked like she had fun.
The third eventful thing happened at a larger wave. We all pulled into the eddy without incident and several of us took turns trying to get onto the wave and surf. Most of the time we ended up getting blown out immediately.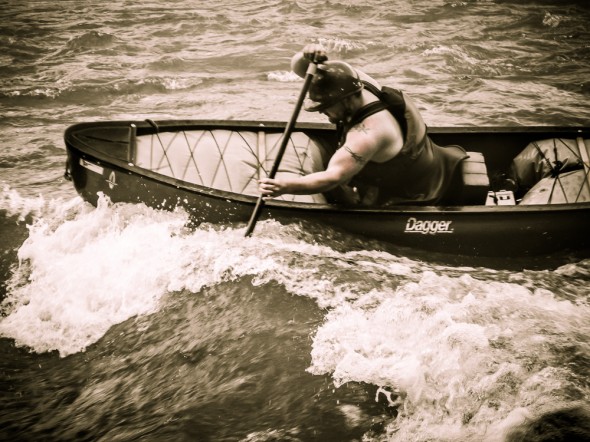 Cole's been paddling his new C1 this summer, but for this wave he got into Mom's Ovation and surfed in it for awhile. Chris and Cole were able to surf longer than the rest of us, but they've been paddling a lot longer, too.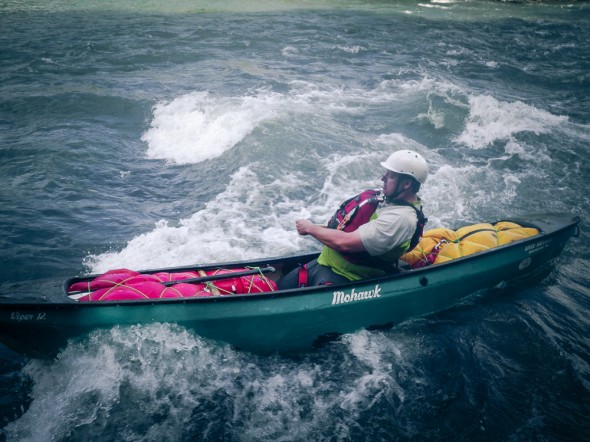 Once, though, I finally stayed on the wave until it pushed me to river left and flipped me over. I'm not supposed to try to roll until we know it's safe for my back, so I tucked and was about to pull my skirt when I hit a rock on my life jacket. After that I stayed tucked, occasionally pushing my paddle off the bottom for a breath, and got hit by more rocks. Only one really scraped at my bare shoulder, and it ended up being an underwhelming scrape – thank you, life jacket! At some point I braced up and said "I guess I could swim now…" and pulled the skirt. Normally I just kind of slide out of the boat once I do that, but this time I got my foot stuck. After I struggled for a bit, Chris paddled up next to me and held my arm and talked to me as I extracted my foot from the outfitting and pulled myself out from under the boat. It was a lesson learned – always be sure you can swim out of any boat you borrow. I'm glad that I got stuck in easy water with Chris nearby to lend a hand.

I was able to get into Monkey's playboat at the very end of the day. It felt great to be back in a kayak again, and I had fun spinning in a tiny little spin hole I found. Mom said I looked pretty happy.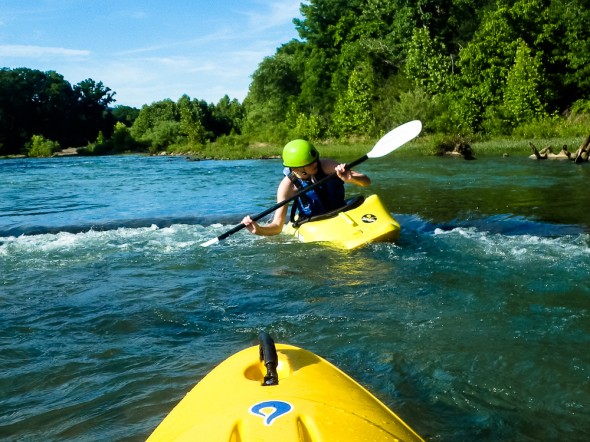 After pulling up at the Game & Fish take out, we changed clothes and loaded up the boats. We piled back into our cars and skidded through the mud and headed to Conway to eat supper at Old Chicago. in Conway to eat. I had some awesome spaghetti pie and everyone else had pizza that they claimed was good. But I think mine was better.