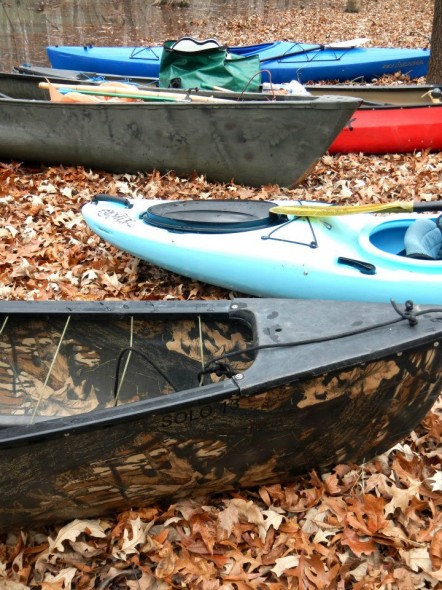 Our young friend Monkey has been nosing around the edges of our kayaking hobby for a few months. She and her family went with us one warm day last summer on a Remmel-to-Rockport trip. I think they all enjoyed it, but I think Monkey enjoyed it a little extra. Since then she and Mandy have talked about boats several times. She spent a few days with us over the holiday break, and it worked out that I could take her on a group trip to Bayou Deview on the Saturday before school started again.
It was Mandy's first swampy trip as well – she's always had something else going on when I've joined the group for similar outings – and I think she was surprised at how much she enjoyed the day. 'It's like a dayhike, but in boats,' she said 'and I got to see things I wouldn't have seen from the trail.' Both the girls especially enjoyed the big old cypress and tupelo trees in the water. Lots of them have interesting shapes, and a few are hollow enough to look – or even to fit – inside.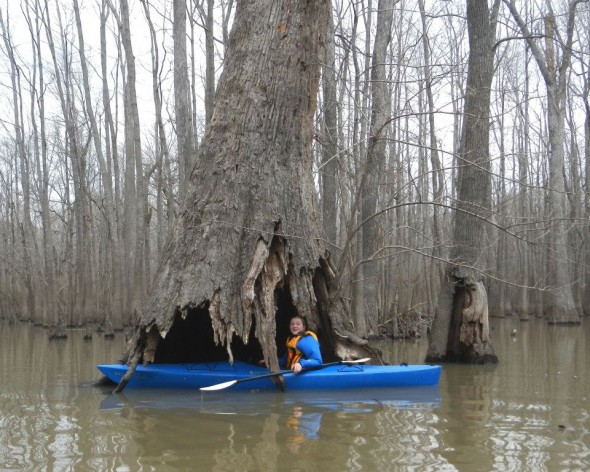 (By the way, the photographs in this post are from Al Carrington, who said we could use them. We really needs to get our own waterproof camera.)
On the way home from Saturday's trip, our car received a phone call from our friend Cowper's truck, just ahead of us. If there was a trip to the Saline River on Sunday, would the girls like to come along? Of course they would. Another quick set of texts between Monkey and her dad secured permission, we scurried around to hang and dry gear before bedtime, and the girls spent the next afternoon on the river with Cowper. Monkey learned some things about ferrying and eddy turns, and Mandy enjoyed some long-overdue playboat time.
And so now I guess we'll have another girl in the water. I wonder, sometimes, if Monkey's family will decide that hanging out with us takes too much time. Surely they'll figure out, as they shop for a boat and paddle and helmet and PFD and whatever other gear she's going to need, that our family costs them money. Sssssh… don't tell them. Maybe they haven't noticed yet.
POSTSCRIPT: They've noticed. Monkey's dad ordered a new blue ShredReady helmet for her this week, and he brought her out in the rain on Wednesday evening for roll practice at the UALR gym. She learned to roll a kayak on her first night, while I sat on the side and watched, and every time her head came out of the water – even the times when she did something wrong – she had a huge smile on her face. (Click the link below to watch one of Rachel's very first paddle rolls.)