Sometime in February, a coworker from upstairs said that she'd like to do Bike to Work Day as an 'employee wellness program.' She's the one who does Walk Across Arkansas, and a number of other wellness things – she's a gerontologist – and she thought we should do Bike to Work again.
In the past, Extension has done Bike to Work Day as part of the 4H program, with really limited success. LaVona and I decided that we'd do better. Against my better judgment, we formed a Committee. I hate committees. But this one was pretty good, because we picked people we liked, and every month we'd ride across town to eat lunch someplace and talk about what we were going to do about Bike to Work Day.
Early on, we understood that we couldn't very well expect our coworkers to ride several miles across town without teaching them anything, or encouraging them to build up to the event. So we planned out a series of little 'workshops' on Fridays, at lunch. We borrowed some bikes from the 4H Center. We expected two people and we got twenty. We started out with NOTHING – truly, the first Friday we just told people to get on bikes and ride around the parking lot, to remember that they COULD still ride a bike, that they WOULD still have fun. And they could. And they did. And those who had forgotten were taught again.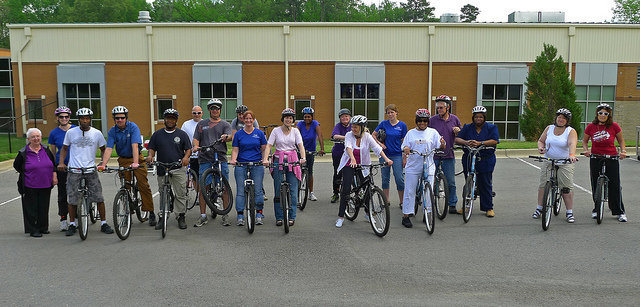 Photo by Mary Hightower
On the second Friday, we borrowed some extra bikes from David Fike. We talked about how to adjust the seat so that we were comfortable. On the third Friday, we talked about how to shift. After every little five-minute talk, we had a handout, and then we'd ride – just around the parking lot at first, and then around the campus next door. We talked about how to ride on a shared path, and we practiced that on the wide walkways at the University. We talked about how to ride with cars, and we practiced on the quiet streets behind our offices. We kept expecting that no one would show up. And people kept coming.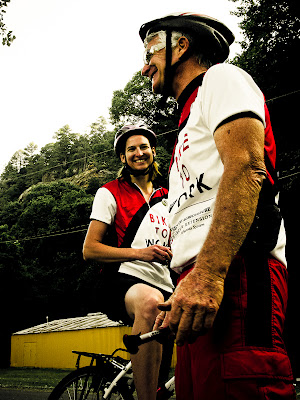 Coworkers – middle aged, overweight coworkers – stopped me in the hall. They told me that they were having lots of fun. They told me that they were losing weight, or taking less blood pressure medicine, or having less arthritis problems. It wasn't the half-hour a week of riding that was doing it, surely – but that little boost was all they needed to get started being a little more active.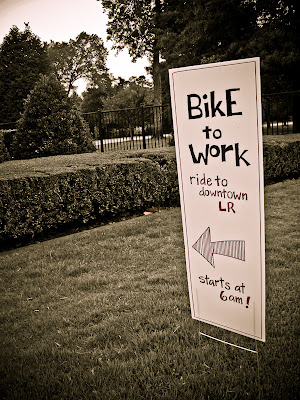 So finally, it was Bike to Work Day. Again, I sort of expected two people to show up. And again, I had more than twenty. We had a ridiculous route – remember, it was put together by a committee – that started at the U of A Systems Office in Cammack Village, crossed the river, went downtown, crossed again, and cut through the neighborhoods to our offices. Along the way, we had two flat tires, a recurring seat post issue.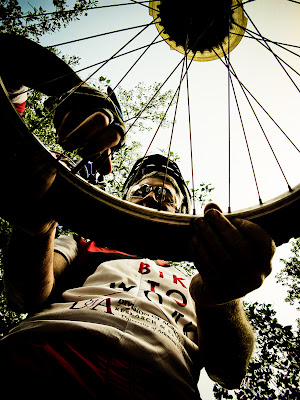 We also ate breakfast four times. People had been telling us that their families said they were 'too old' or 'too out of shape' to ride. We wanted people to get lots of support for what they were doing, to feel as if they were part of a community that said it was okay to ride even though we didn't look like racers. We stopped at Fike's Bikes for free blinky lights and bagels. We stopped at the Capital Hotel to park our bikes in the fancy ballroom and to eat a great breakfast and to sit in the nice bar and rest for awhile.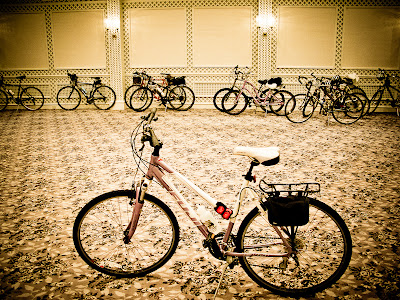 Pam rode farther than she's ever rode before. I think several people did, but Pam was the one most proud of the accomplishment. And I was pretty proud of her, too.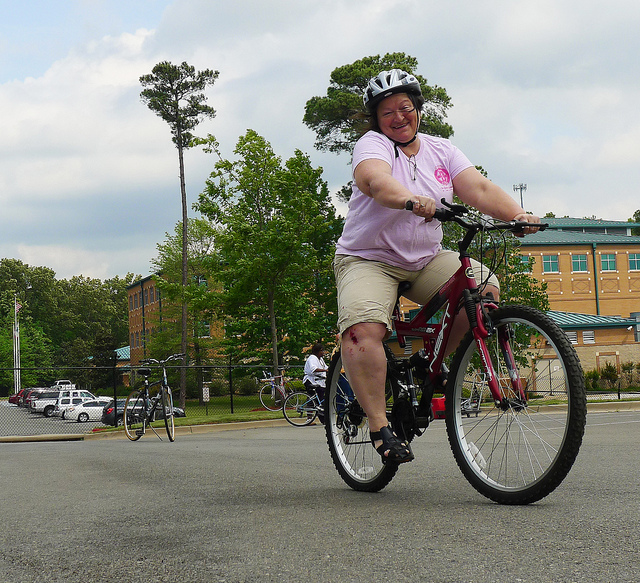 Photo by Mary Hightower