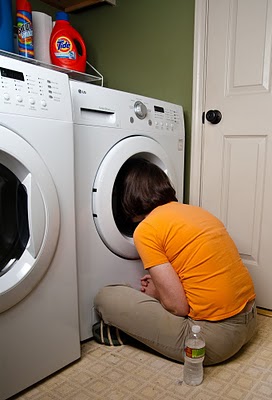 Here's a semi-responsible decision: we just upgraded our washing machine.
While our current washer wasn't actually broken yet, it was of uncertain age, with a questionable history, and was missing some paint. A store sale (25% off), combined with a 10% off coupon from said stores competitor, free installation & delivery, and Arkansas' current generous rebate for upgrading to Energy Star appliances ($175 off) meant that we could have a new washer for about half price including tax. Wow!
If Bryan were writing this, he would also tell you that all the online reviews for the new washer were very good, and that it will pay for itself in energy savings in just a couple of years. It seemed like a smart thing to do. But all the same, it hurt to replace something that still worked.
Now our washer and dryer match, which feels like a great luxury. Plus, the new washer is really interesting to watch. All three of us spent a considerable amount of time today with our heads stuck in the porthole, watching our clothes tumble around in the suds. I'm completely amazed that the new washer cleans things with so little water. Plus, it plays a cheerful little song when it's done, just like its new friend the dryer. They seem very happy together.
Also, did you notice in the photo above that I'm missing some hair? Yep, it's spring, and I was sick of my ponytail, and I went and got it all chopped off. WHACK. Gone.