Britt's backpack has been around since the mid-eighties. Someday I want to sit down and write out a memoir for that pack. It may have gone on more good trips than I'll see in my lifetime. A replacement internal-frame pack in Britt's size has been found and ordered, so this was the old pack's last trip. It wasn't dangerous or exciting, as some of its earlier trips were. But it had one last long weekend in the woods with good friends and clear skies and a bright moon, and I hope that was enough.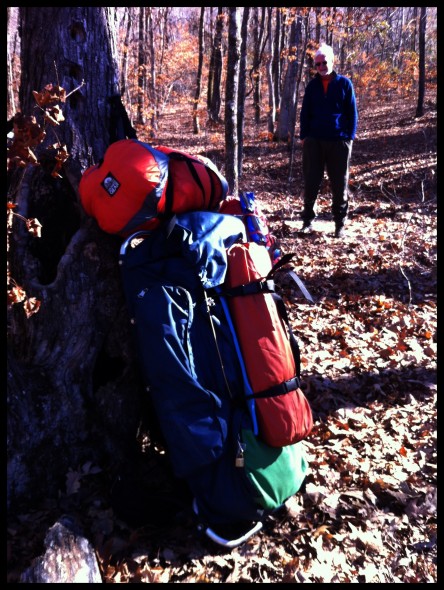 We began our walk at Lick Branch, where we'd left off hiking a couple of months ago. The trail was level for a bit before beginning a long, slow, all-afternoon climb. Our camping spot was perfect, on a flat spot just above a tumbling bluffline of big sandstone blocks, and a barred owl called through the woods as we set up. We never saw the owl, but he sounded close enough to touch. Worn out, I went to bed right after supper.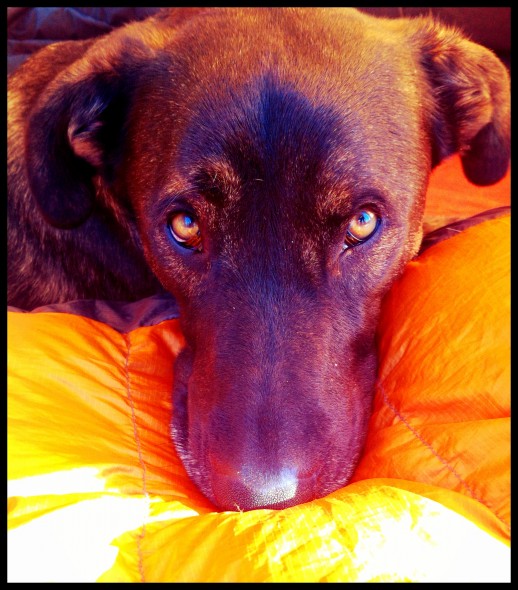 Who was it who wrote about having lost their faith, but not their desire to worship? It's just a habit, I guess, but even now, Sunday mornings often find me somehow still and grateful. I got up early on Sunday and sat on the bluff watching morning come, reading Wendell Berry:
Horseback on Sunday morning, harvest over
We taste persimmon and wild grape,
sharp sweet of summer's end.
Through time's maze over empty fields,
we name names that went west from here,
names that rest on graves.
We open a persimmon seed that stands in promise,
pale, in the seed's marrow.
Wild geese appear overhead, pass, and the sky closes.
Abandon, as in love or sleep,
holds them to their way, clear, in the ancient faith.
What we need is here.
And we pray, not for new earth or heaven,
but to be quiet in heart, and in eye,clear.
What we need is here.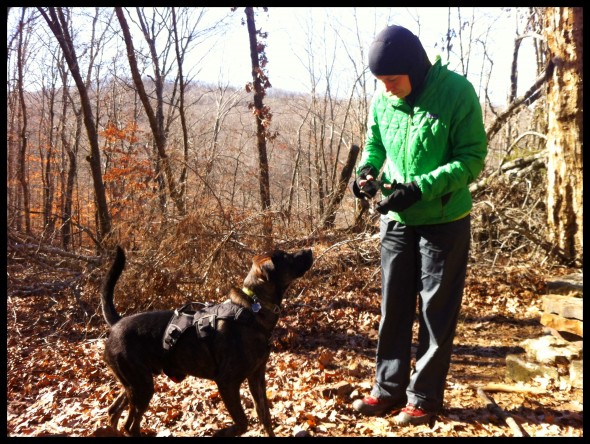 Hayduke and I went back to camp when I heard the others up and around. After breakfast, there was more climbing for another mile or so until the trail leveled out, alongside scattered remnants of rock walls. I like this, about the OHT – these woods once had homes, and those people left things here. It always makes me wonder what their lives were like. How did it feel to raise a daughter, here, then? What sacrifice had to be made to buy the daffodils that still bloom, every spring, at the base of the rock walls they built?
We crossed passed the little waterfalls in Acord and Eldridge Hollows, enjoying another t-shirt-warm day. After some scouting ahead, we came back and camped above Lynn Hollow. A tree had fallen on the fire ring we wanted to use, so while Britt and I pumped the water, Bryan and Debbie pulled and cut and broke the tree back and rebuilt the ring, and Mandy built rock chairs. We set up our tents and ate our supper and told our stories, though Britt's are always the best – who of us has ever spent a whole whole cold night perched in the branches of a tree at the bottom of El Capitan, watching bears walk around below us?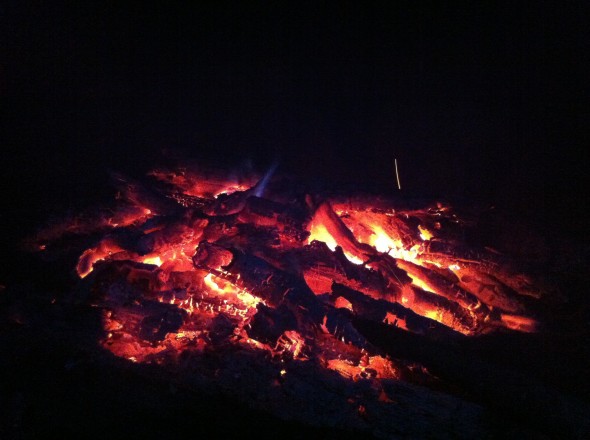 Monday morning we hiked through more ice storm damage, down to the bluffs and overhangs and little waterfalls of Lynn Hollow Creek. At Arbaugh Road, we unlocked the waiting Subaru and changed into clean, warm clothes. A short drive to the store at Oark got us hamburgers and blueberry pie and oatmeal pie.
And then it was back home, back to our regular routine, which is always a little better for having left for awhile.