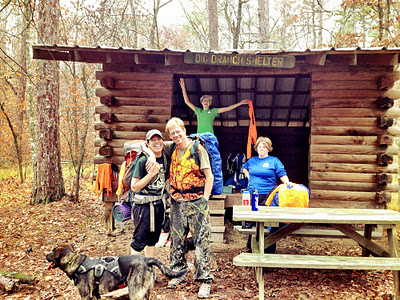 Ivy the Poodle has never gone backpacking, so we thought we should fix that problem. Our unicycling friend Alyssa decided to make it her first backpacking trip as well. We chose section six of the Ouachita Trail because it's an easy hike with accessible water. And on beginner trips, it's nice to use a trail shelter and leave the tents at home.
What a pretty, pretty weekend! It was warm and pleasant hiking; in fact, we had to stop along the way so that Jarion could adjust Kathy's pants by cutting out the too-warm linings.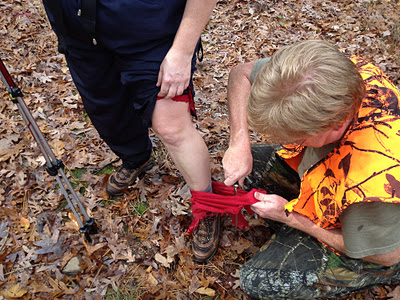 It's unfortunate that some of the best weekends for autumn hiking are also hunting weekends. We do what we can to get out anyway, avoiding super-popular hunting areas and being sure that we wear orange. Friends have cautioned us that we should keep bright colors on Hayduke year-round, since he looks a little bear-ish.
Jarion just looks like a guy with orange hair and a matching vest.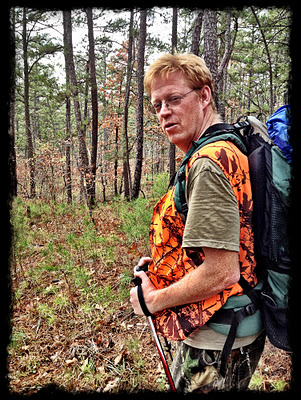 And Alyssa looks like a huge grin with a person attached to it. She was great company on the hike. Her inexperience showed in what she packed – 45 pounds of lotion bottles and glass jars of salsa and who knows what other crap – but she's strong and tough and cheerful and she sleeps like a rock. We teased her about her ridiculous array of food and bathroom supplies, and she took it with a smile. She and I walked alone a bit, without packs, to tag a bit of trail I hadn't hiked yet, and she just about wore me out.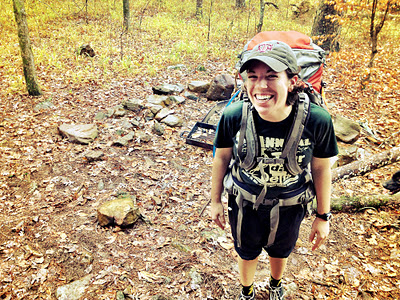 Hayduke has become a good trail dog. He hikes reliably off leash and in line (provided there aren't streams or rivers or gross wildlife ponds to wallow in.) He knows his place, between Bryan and I. In fact, he's so particular about this that we've had to change our own preferences – I typically hike in the back of a group, but Hayduke makes himself such a nuisance by running back to "check on" me (crowding into the other hikers along the way) that I've had to just give up and hike behind Bryan.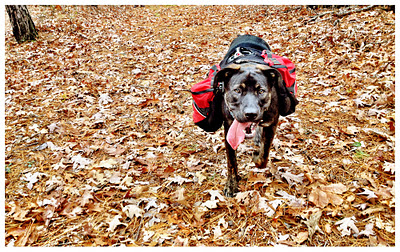 Mandy's stepped into my usual role, without being asked. She took to the back of the group on this trip, hiking with the slowest person. "The person in the back should never hike alone" she said, and took care that they never were.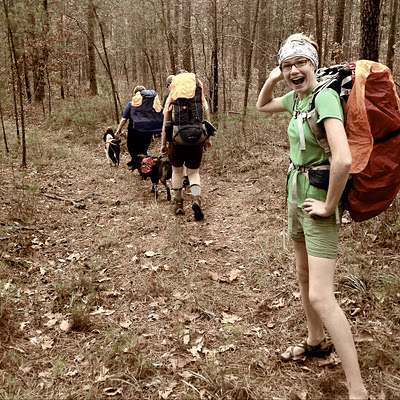 Ivy had a fabulous time. She looks like a fussy poodle, but she really enjoys being a dog sometimes. She wanted to be at the front, watching for creatures to smell and chase, and for the most part she stayed with the group pretty well. She was really good in camp, though predictably sleeping in a giant doghouse with all her friends was a little more excitement than she could handle for the whole night. There was only one "hey, have you seen Ivy lately?" scare, but fortunately, it turned out just fine. By the end of the trip, her poodle-fur was dirty and full of leaves and ick, and she was a very happy girl.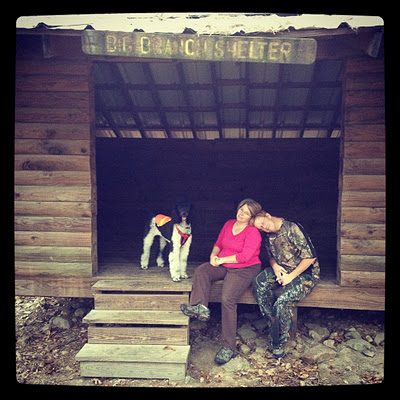 What a nice trip. We changed clothes along the highway and ate a good supper and were home in time for bed. Backpacking. Autumn. Friends. Dogs. Good.