This is our good friend Ellen. She's an elephant, and she (and our other elephant friend, Mary) live at the Little Rock zoo.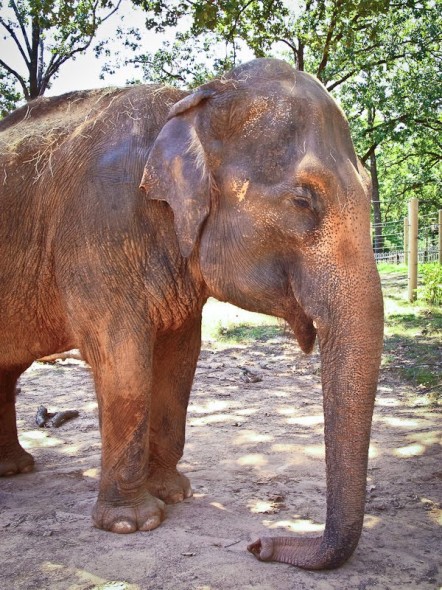 Britt Thompson, their keeper, introduced us to his summer intern Elise, and she's been playing bike polo with us. On Elise's last week in Little Rock, Britt said it would be okay for Mandy and I to come and paint with Ellen. We weren't sure what to expect, but we bought a multi-pack of stretched canvas from the craft store and did what they told us to. Elise is great with the elephants, but Britt was never far away, keeping a close eye on the afternoon's art project.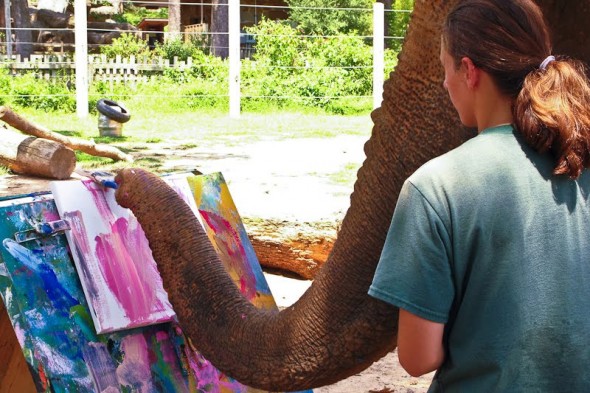 Ellen and Mary have somewhat different painting styles. Mary likes to pick up brushes herself, apparently so that she can have more control over the creative process. Or something. Ellen, on the other hand, doesn't care. Pick a brush, pick a color, stick it in her trunk, and she paints and paints.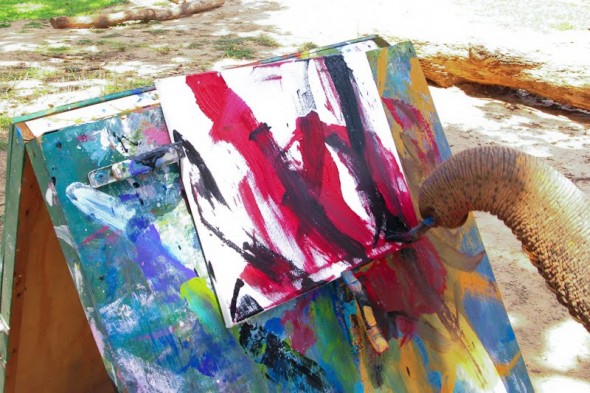 Elise started out 'helping' Ellen, but Mandy and I took our turns too. It's a little nerve racking to have an art buddy who could crush you so easily, but it was really interesting. Rather than 'handing' Ellen the paintbrush, we had to ask for her trunk ("Ellen! Trunk!") and then actually put the handle of the brush in her nostril-thing, while she used the little thumb at the end of her trunk to hold it in place. (Important note: if she doesn't grip it, it actually disappears INTO HER TRUNK. Scary? Not really. Just hold the trunk the other way and shake, and it falls right out.)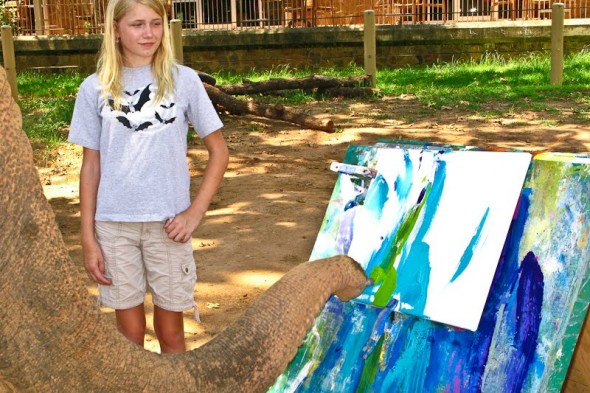 Ellen reminds me a lot of a very smart toddler. Sometimes she gets distracted and sidetracked and forgets that she's supposed to paint on the canvas. By the end of the day, Ellen, Mandy and Elise all sported some pretty entertaining paint jobs, too.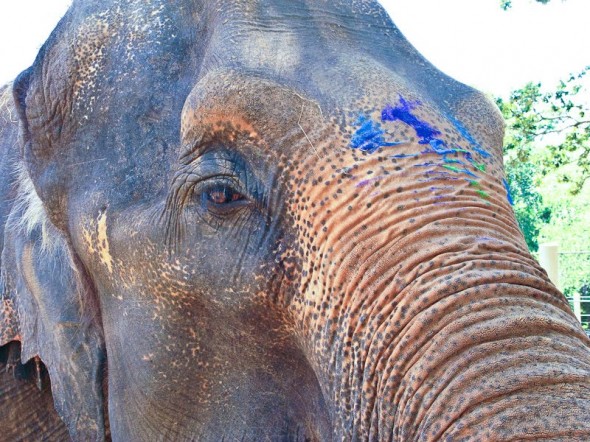 It was a hot, hot day, and by the end of the afternoon, several of us needed a bath. Ellen got in the elephant-pool with Elise to clean up, but Mandy and I had to go all the way home for showers.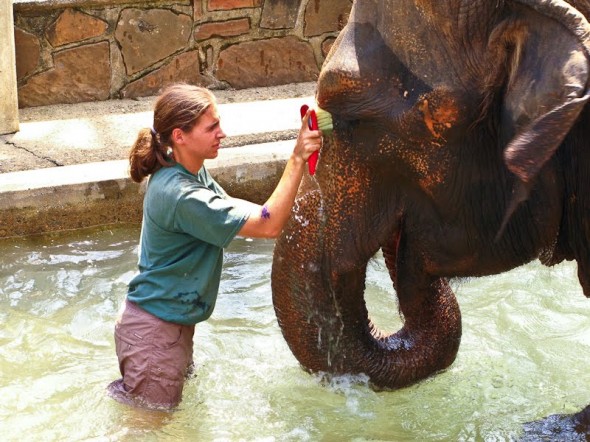 What a treat! We're grateful to have such interesting friends and such cool opportunities to do things with them. We'll give a couple of the canvases as gifts, and keep the others as treasured keepsakes from the day we spent painting with Ellen.