It's been a long week, a stressful one, and we need to go to the woods. It's warm, and the forecast rain shouldn't arrive until early afternoon on Sunday. We think it would be a good weekend to hike section six of the Ouachita Trail with a stop at the Uncle Bill Potter shelter for the night. It's a long Saturday, though, and by the time we drop the truck at the eastern end and found our trailhead at Hwy. 27, it's after five.
It's a spidery day. I take my spot at the front of our little group, crashing into spiderwebs as I walk. (I don't usually like to hike first, but I am called into service when spiders are present.) I count the webs as we pass, and Bryan and Mandy dutifully yell "thank you!" each time. When I get too warm and take off my hat, I am surprised to find a colorful yellow and black hitchiker.
By dark, I've run into more than twenty webs.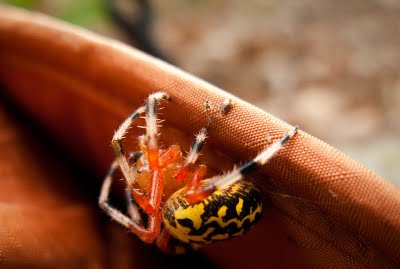 As the daylight fades we get out our headlamps but leave them turned off to try hiking in the dark. Bryan, who's done a lot of night hiking, enjoys walking under the nearly full moon. Mandy and I, on the other hand, stumble all over ourselves and finally give up and switch our lights on. We know that the turnoff to our shelter should be about six miles in, and Mandy and Bryan are watching for it so carefully that they walk right over a rattlesnake curled up napping in the trail. Their feet pass not six inches from the snake. I see it, and detour.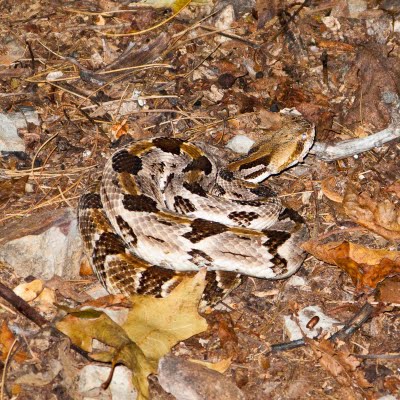 The shelter on this part of the OT is about a half mile off the trail, downhill toward Iron Fork. I sweep out the shelter twice, avoiding the busy wasp nest, while Bryan and Mandy cook our supper. We are awakened around midnight by rain, loud on the metal roof, much earlier than forecast. We all sleep fitfully after that, cozy in our sleeping bags, in our little house in the woods, listening to the rain.
By morning light we see that the shelter overlooks the creek, and we venture out between showers to cook our breakfast and visit the edge of the water. It's a pretty spot. Since the rain shows no sign of ending, and since we've had another very slow morning, we decide not to hike the 12 miles of new trail out to the truck, but just the 6 or so miles back to where we've left the car. It doesn't rain a lot more, but it's a misty, cool day, and hiking through the wet grass on Sandlick Mountain quickly soaks through my no-longer-waterproof boots.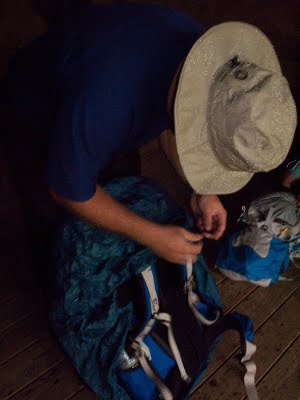 At the car, we change into whatever dry clothes are left: long underwear, wool socks, fleece vests, plastic camp shoes. My outfit is particularly spiffy, featuring a combination of orange, pink, brown, and red. Our ragtag family draws some looks from the nicely dressed retired folks at Molly O'Brien's in Hot Springs Village, where we stop for supper on the way home.
We walk into the woods on a warm, bright late summer day, and something changes. We come back out in the rainy overcast of autumn. A new season has arrived, and we are here to see it.