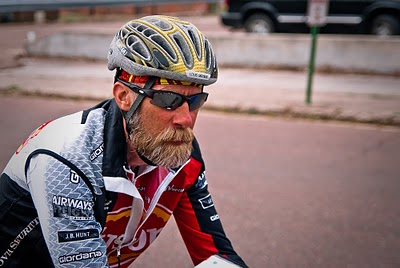 Once again I wasn't able to join a group for their entire week of riding but I was able to join them (~20 people) for their last day. This group was organized by the Mississippi River Trail organization in partnership with Delta Scenic Byways, Arkansas State University and the Jonesboro Parks and Recreation Department. Their goals for the week included:
Scouting a possible alternative route for the Mississippi River Trail through Arkansas
Exposing the Crowley's Ridge/Arkansas Delta area to local cycling groups
and exposing the communities on Crowley's Ridge to the idea of promoting and accepting cycle-tourism
The group started in Cape Girardeau, MO on Monday and will finish the week 320 miles later in Helena-West Helena, AR. I was meeting them on their final day at Village Creek State Park and would wind up riding about 65 miles with them (new record for me!).
This wasn't an ordinary van-supported tour though, these folks had appointments with mayors, county judges and chamber of commerce folks in the various towns along the route. I got the impression that there had been some education/explanation phone calls and materials made to these folks prior to the ride and meeting with them was a way to show that cyclists that want to ride in the delta DO exist.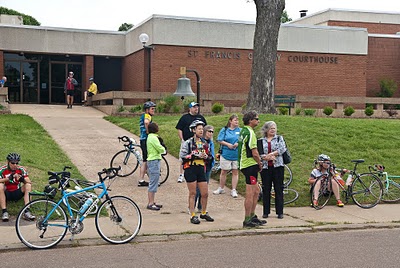 So our day started off with people leisurely packing up camp, loading gear into the trailer and heading out at their own pace for a Waffle House breakfast in Forrest City (about 12 miles away). After a filling breakfast, we rode to the county courthouse where we waited to meet with the county judge and present him with a certificate for his support of cycle-tourism in the delta region.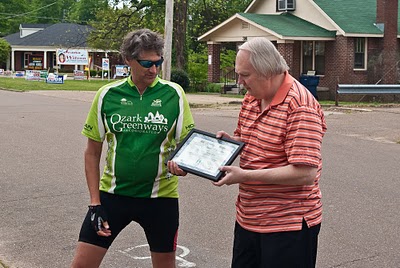 As the day went by we met with the director of the Mississippi River State Park, the Mariana chamber of commerce president and several others whose names/positions I've forgotten.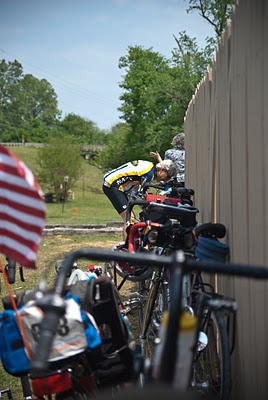 Our group stopped at the Delta Heritage Trails State Park and met with a group of local (Helena-West Helena) cyclists and supporters. This state park is at the beginning of a future 72 mile rails-to-trails project! They currently have about 14 miles made into a nice gravel trail and in the future the trail will extend south to Arkansas City. From there it may be possible to have a gravel trail on top of the Mississippi River levee and ride all the way into Louisiana. That'll be cool!
At the end of the ride there was a balloon arch, beer, cookies and Gatorade awaiting the participants. The mayor and county judge were also present to meet these cycling advocates and to express their support for cycle-tourism in the delta region.