After a disappointingly short and rainy backpack trip on Buckeye Mountain, our young friend Monkey was eager to try another, more pleasant backpacking trip. We wiggled our schedule around a bit and worked in a weekend trip to the Sylamore Trail, one of my most favorite autumn hikes in Arkansas.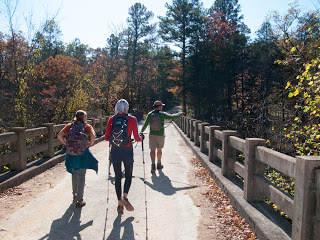 The stretch of the Sylamore between Barkshed and Gunner Pool is about five miles of really neat hiking. For the most part, the trail runs along the bluff well above the creek. In the spring and fall it's a nice hike, but when the leaves are down there are some really great views through the bare trees down to the pools and ripples of Sylamore Creek. Some of the trail runs under overhanging limestone bluffs and through big weathered breakdown chunks.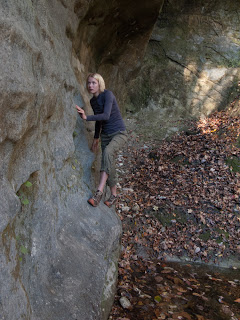 This section of trail also has a number of waterfalls and cascades that are really striking when there's water, and nice to play in during hotter months. One favorite spot was more or less dry, but it was still pretty enough for us to call a snack stop. Monkey found a way up the bluff to peer down at us from the top of the cascade, and Hayduke surprised us all by muscling his way straight up the smooth rock to meet her.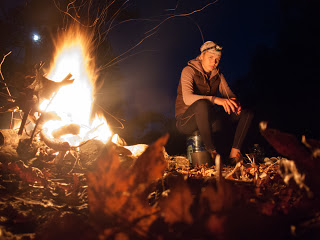 Camp was at a well-known spot along the creek just upstream from Gunner Pool. As we put our packs down, I realized that I'd made a potentially awful choice of camping spot – we were right next to a creek, camping with Mr. Otterpants the Dog. It was cold, and I thought he might feel the need to be in and out of the water all evening and all night (as is his habit in warmer weather.) I shouldn't have worried – Hayduke loves water, but apparently he has some sense about it, because after an initial knee-deep wade into the chilly stream, he stayed carefully dry for the rest of the evening. Mandy had forgotten to pack tent stakes, but Bryan taught a short course in staking with rocks, and her tent was well-secured in just a few minutes. The cold was beat off by a nice gravel-bar fire, we settled in for the night.
Mandy and Monkey had hiked well together on Saturday, as expected, so we thought they might enjoy a little grownup-free time on Sunday. Bryan and I walked them through the Gunner campground and pointed them in the direction of Blanchard Springs, then we turned around and walked back to the car at Barkshed. It worked out well – the girls got some independence and we got another trip through a favorite spot.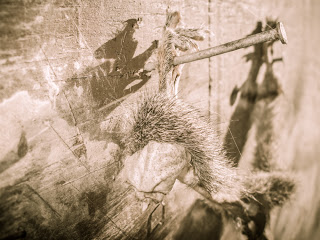 Once back at the car, we picked up the girls at the Blanchard Springs campground and then drove to the Allison trailhead, the 'downstream' end of the Sylamore Trail. We've always avoided the trailhead at Allison, as I think most people do, because hikers have to cross the creek almost immediately after leaving the car. We figured this would be a good chance to check it out at the lowest water level we're likely to see, a kind of best-case scenario for creek crossings – and sure enough, it still looked knee- or thigh- deep all the way across. Also, there's part of a squirrel skin nailed to the trailhead sign. I think we'll continue to avoid Allison in the future, even as we'll continue to hike on the Sylamore, especially in the autumn.