The Coen brothers are doing a movie based on the novel "True Grit" by Charles Portis. They're looking for a girl who is "tough and tells it like it is" to play Mattie Ross. Debbie Hope, who really only knows Mandy by reputation, emailed me to say she thought of Mandy when she heard about it. I mentioned the casting call to Mandy and she decided that it was an interesting idea.
So Saturday morning, she and I went to the Peabody (along with every other young teenage girl in Arkansas) to interview for the part. I had to find a photo to take along, and Tom Riley at my office said we couldn't do much better than this year's rather practical-looking school photo.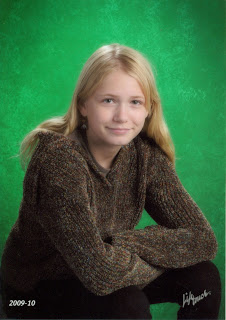 While we waited, Mandy read the coverless paperback copy of "True Grit" that I've had for years. The casting people did group interviews, with twelve girls at a time. In Mandy's group, the casting director asked "what do you like to do with your friends?" Everyone else in Mandy's group said that they liked to go to movies and send text messages. Mandy said she liked to backpack and cave. Everybody else got sent home. They kept Mandy.
They gave her three pages of script from the movie and an appointment to come back that evening to read for the part. Once Mandy confirmed that we could do that and still have supper with our friends Britt and Debbie, she practiced her scene, in which she was supposed to tell a stable owner that he should pay her back for a horse stolen while in his care. After pasta and salad and a unicycling demonstration at the Thompson's, she and I went back to the Peabody for her audition.
The other girls were called in, one by one, and we heard murmurs behind the door as they practiced the lines once and then recorded their auditions for the camera. Mandy drew a reindeer on the back of her script.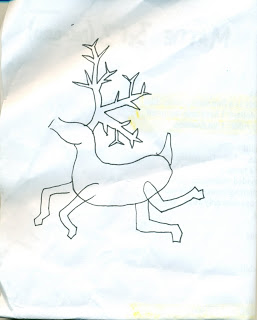 Then Mandy was called in and the door closed. And if what they are looking for is a little blond girl with green eyes who is PISSED that her horse was stolen, then folks, that's what they found. No quiet murmurs behind the door for this one. I heard her yelling all the way in the next room. "THAT HORSE was stolen while it was under YOUR CARE. YOU ARE RESPONSIBLE!"
So that's how things ended. We went back to Britt and Debbie's for cupcakes and board games and then headed home. None of us thinks Mandy has any chance to get the part, since this is a multi-state thing, and just here in Little Rock they had a whole herd of girls coming back to film auditions. We'll know for sure when a month goes by and we haven't heard from them.
But it's fun to think about, and it will make the movie fun to watch when it comes out, won't it?