Bryan's mom is off work for Spring Break, and his dad took a week's vacation to match. They came up to visit for part of the week, and asked for a good long weekend of camping near the Buffalo River.
On Saturday, on the way to Jasper, we showed them some of our favorite near-the-road waterfalls. At Falling Water Falls we got an extra treat — kayakers dropping off the falls into the water below.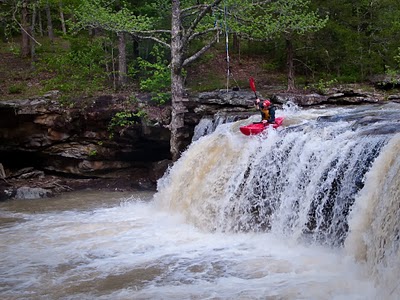 Due to recent local rain, the water was up in Falling Water Creek. Six Finger Falls was flowing hard. We've spent lots of time in the creek here, playing in the clear water and sitting in the little hot-tub pockets that form at the edges of the six fingers, and downstream from here. Not today, though; the water's rushing so hard I'm not sure we could even have waded across, much less relaxed in a quiet pool.
We tried to camp at Kyle's Landing but the sign said it was full so we headed down the road to Steel Creek and set up camp for the night.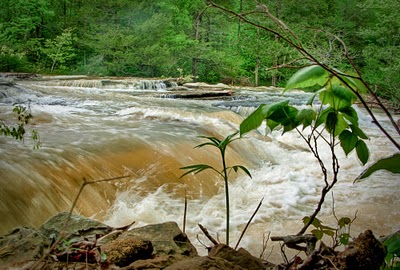 On Sunday we rented canoes from Buffalo Outdoor Center in Ponca, AR and floated the Buffalo, from Steel Creek to Kyle's Landing. Bryan and I are in a canoe together exactly often enough to be bad at it, so we always take a few minutes to remember how to pilot the thing. This time, though, we didn't get that chance. Within ten feet of starting our trip, we went off some sort of stupid ledge and tipped our canoe RIGHT IN FRONT OF about ten other people who hadn't pushed into the water yet. It was completely ridiculous. We were soaked all day, and I never warmed up.
Apart from that, the day was great. As a surprise for Mandy, Bryan rented her a kayak, and she adores having her own kayak. She happily paddled along with us most of the time, and traded spots with me only when her arms tired out. Bryan's parents declined the trip up Big Bluff but did take the short hike to see Hemmed-In-Hollow waterfall (his dad is staring up at the 200+ foot waterfall in the photo below). We ate supper at the Ozark Cafe for the second night in a row, and Mandy and I headed back to Little Rock.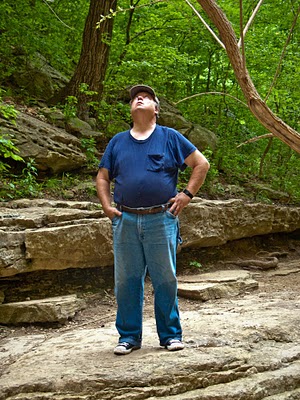 Bryan stayed another night at Steel Creek with his parents, and on Monday they went to see the Pedestal Rocks. His dad can't hike a lot because of issues with his feet, so this trail was my pick for them — short and easy, with a great payoff.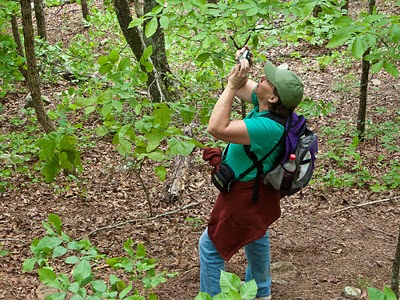 I love the Pedestal Rocks. They don't look like something that should be in Arkansas; they belong out west, or in Mexico, or as part of some alien landscape. And underneath, they're like caves that aren't.