This is a multi-part trip report… if you haven't already, you should start with Day 1.
Start: Tucson, AZ
End: Monahans Sandhills State Park
Daily Mileage: 565
Total Mileage: 1984
Our hotel room smells awful and looks like an REI explosion, but we're clean and fed and rested and all our gear is dry now. It's worth noting that the Fairfield Marriott has an excellent free breakfast, complete with good coffee, lots of pastry choices, a self serve Belgian waffle maker, and all the peanut butter packets you can sneak into your tote bag.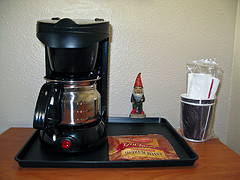 Our gnome likes his morning coffee, and he likes Belgian waffles too
We head east on I-10, a little sad to begin the end of our trip. We take an almost immediate detour and spend a lot of time finding a good spot to take panographic pictures of Tanque Verde Ridge. We hop a curb at an office building and Bryan uses his new pano tripod head, and I take pictures of him taking pictures, and of cholla in the snow.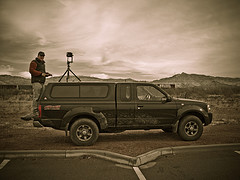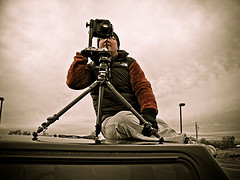 Bryan and his tripod, camera, and pano head
In places, the towns are an hour apart, which makes for a miserable McDonald's line on a big travel weekend. We sit in an interminable drive thru; I attempt to use the bathroom but abort the mission when I count 34 other women in line. We listen to "Jesus Don't Want Me For A Sunbeam" (by Nirvana) on the iPod and then give up on McDonald's, getting back on the interstate. We'll get some nuggets somewhere else.
Here is a quote from my travel journal, written while flying down I-10 at 75 miles per hour:
Soaptree yuccas are stupid looking plants, like wandering midgets with bad hair, drunken and lost, lurching through the pasture grass. Some of them wave toilet brushes above their heads. Are they trying to hail cabs, out here in the weird, lonely west? Do they know how ridiculous they look?
We wander through an outlet mall, then eat supper at Chili's in El Paso, a generic choice but we're grumpy and tired. We talk to Mandy and enjoy hearing her cheerful voice, a bright spot in the evening. She is interested in our trip and glad to tell us that she's impressed her friends in Oklahoma by doing 168 sit ups.
For awhile we parallel the Mexican border, and after dark we enjoy the idea that we're looking miles away to the south at the lights from another country. About nine o'clock we pull off the interstate with all the other traffic to drive through a border patrol checkpoint. It is unexpectedly scary but after our truck is dog-sniffed and we tell the officers that we're American citizens, we're on our way again. The truck stop in Pecos is nasty, and we're tired and ready to stop long before bedtime.
We arrive at Monahans Sandhills State Park around midnight. The camping spots are all surrounded by dunes of soft, light sand. It's already below freezing but it's not windy. We quickly realize that the sand won't hold tent stakes, so we pull out the North Face 4-season tent Britt and Debbie sent with us. We've never set it up but it's simple and before long I'm sitting up inside it, a luxury after hunching over in the little backpacking tent. Bryan takes some photos while I pop a flash inside the tent.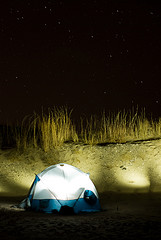 The stars at night, are big and bright, deep in the heart of Texas!
It's funny how we get accustomed to chill, and how much more comfortable good gear makes things. I think about the friends who'd never consider tent camping in winter, but I'm cheerfully ensconced in a cozy tent, snug and warm in my sleeping bag, dry socks, down booties and vest.
We all have strange little quirks, and I find one of mine: I can't sleep with a cold nose. I find a handwarmer and open it, put it on my nose, and quickly fall asleep again. The stars are clear and bright on this last night of our trip.
A selection of additional photos appears below, for more photos from the trip checkout our Flickr page.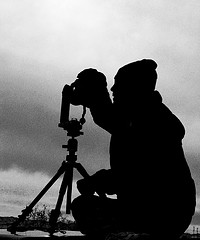 Bryan taking a set of photos of Tanque Verde Ridge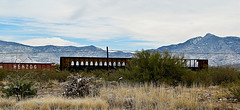 An old train in front of the mountains

Teddy bear cholla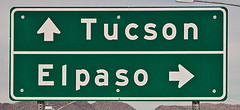 New Mexican sign: Their road map spells "Flying" and "Missile" wrong, too


Some of the overpasses in New Mexico were really neat.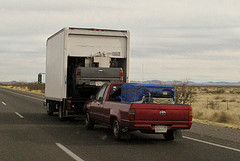 Yes, that's a truck, in a truck, pulling a truck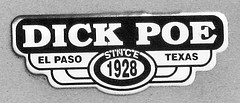 Worst name for a car dealership? Ever?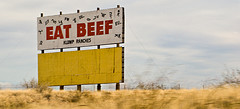 West Texas' answer to the Chik-Fil-A advertising campaign; at least the ranchers can spell.