We arrived in Metairie at a completely normal two in the morning. Because that's just how we travel.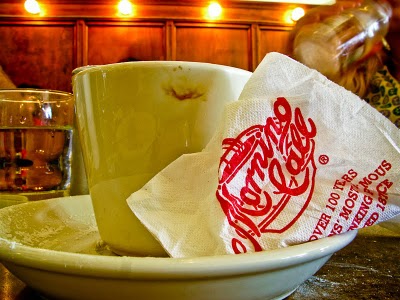 On Thanksgiving morning, after a trip to Morning Call for beignets, we helped put together a big dinner. This is the first year in memory that the meal's been at Bryan's mom's house instead of his grandmother's. This year our contributions were a turducken and Bryan's lemon-snow pie. The turducken (a conglomerate mass of stuffing inside a chicken inside a duck inside a turkey) was okay. The pie was wonderful.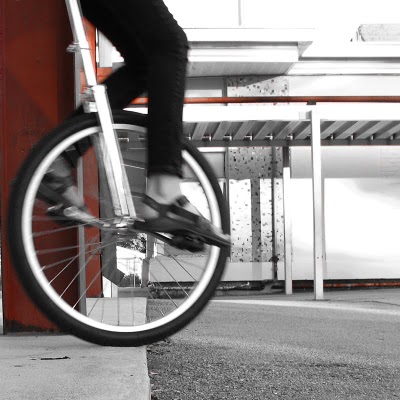 After lunch, Mandy put on an impressive unicycling demonstration. (Over the course of the afternoon she taught herself to ride off an 6-8″ dropoff.) And then we went to Bryan's Aunt Lynn's for Thanksgiving supper. And then his Uncle Edgar and I conspired to break a lovely decorative serving plate by flinging it across the driveway. This is something Uncle Edgar and I hope everyone forgets about before next year.
On Friday, after a trip to Morning Call for beignets, we picked up Bryan's grandmother and headed into New Orleans. We parked at the end of the streetcar line and rode all the way down Carrollton and St. Charles, past the park, past Tulane, past all the interesting houses, past history.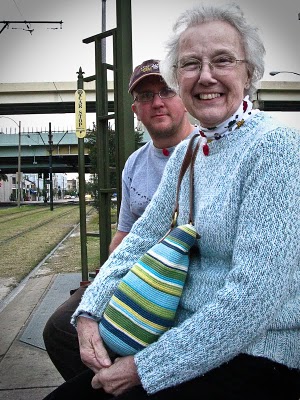 We got off at Lee Circle and walked to the National World War II Museum. (Mandy had chosen this spot from a list of possible Friday activities, based entirely on the fact that she knew nothing about WW2. I was proud of this reasoning. Most of us choose based on things we know and like, things we've already filled in somehow; Mandy chooses based on blank places.)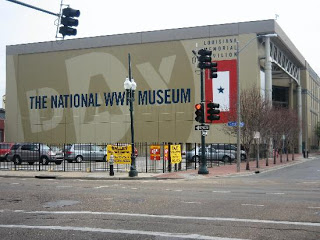 The museum is EXCELLENT. It's well put together, with a great mix of physical artifacts and printed-on-the-wall stories and little alcoves with continually playing movie clips about different small pieces of strategy and destruction and sadness. It's put together chronologically and makes sense. After eating lunch we saw the movie in their new "4-D" theater, which was stunning. I think we all learned a lot, from Mandy all the way up to Bryan's grandmother, who clearly remembered getting shoes with ration stamps. And we enjoyed the streetcar ride back to the Subaru.
On Saturday, Mandy got up early to go fishing with Bryan's dad and his brother Kevin. This time not only did they catch actual fish, but she managed to stay in the boat. (Last time she'd fallen out while peeing off the side.) After a trip to Morning Call for beignets, Bryan and I had some rare quiet time to visit with his Aunt Dot. During this "quiet time" Bryan and I demonstrated our skills on the Rolla Bolla we had recently constructed. Bryan is able to do a "jump mount" onto the Rolla Bolla and then juggle three balls while continuing to balance.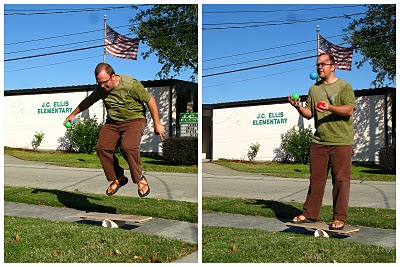 And in the evening we ate what fish our fishermen had caught, along with Bryan's rice pilaf and some cauliflower withbeachamel sauce.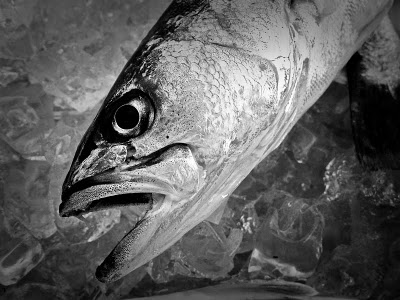 After supper we had a little birthday party for Mandy, complete with the now-traditional birthday doberge cake. And there were presents: some clothes and games, a neat book, cards with money, and the real prize: a new pocketknife from Mister Grandpa JD!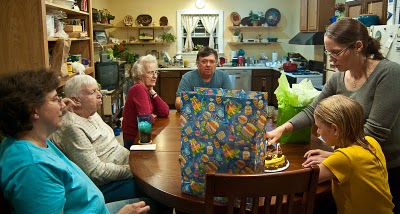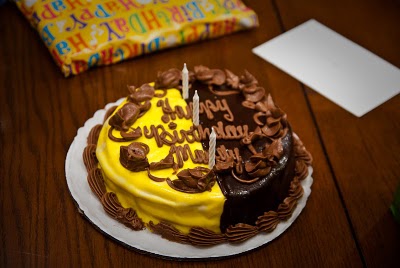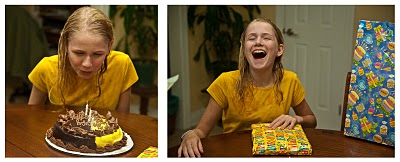 On Sunday morning we met up with our friends Beth and Jeff in order to say our first hello their new baby, Lucy. (Don't worry, I still got my beignets. We met at Cafe Du Monde.) By the time we got back to the house, Bryan's dad had my old broken sled all torn apart. He was replacing the splintered deck with new white oak slats. After a trip to Lowe's for bolts for the sled, and a trip to Dorignac's for groceries we can't find at home in Arkansas, and a stop for poboys at the gas station, and goodbyes all around, we loaded up and headed home.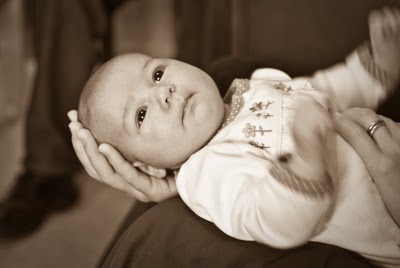 The trip home went well, though we drove in and out of rain. At ten pm, in Dumas, we stopped to get a snack at McDonald's. In a downpour, we turned back onto the highway and started driving again. Our conversation was tedious and involved, as it always is when there's nothing pressing to discuss but there's a need to keep words flowing, on a drive, late at night, just for something to hang in the air, just to keep eyes open and on the road. I think we were talking about skydiving. The rain came down in sheets. About an hour later, expecting to be near Pine Bluff, Bryan remarked that it was odd to see a lake, there, on the left-hand side of the road. A green road sign that it was just 16 miles to Greenville. And that wasn't good, because we'd crossed the Greenville bridge hours before.
We'd turned the wrong way, in the rain, in Dumas. And we'd driven south for an hour before noticing. We couldn't be mad–as driver, Bryan should have had the sense to know which way to turn, but as the copilot, I should have had the sense to notice something was wrong. There was nothing to do but turn around. It was still raining at midnight, and as we drove past the McDonald's in Dumas again, the light blinked off.
We got home at two in the morning. Because that's just how we travel.