The Tour De Hoot is an annual bike ride in McGehee, AR, offering cyclists a chance to help support the small town's Boys' and Girls' club. There's a pasta dinner and other fun activities the night before, free air conditioned indoor camping, a big breakfast on Saturday morning. We've had a busy week though, so we just rolled in on Saturday morning just in time for the ride.

We opted to do the metric century: 100km, which is about 62 miles. (There were other options, too. Riders could register for as little as 25 miles, or as much as 100 miles.) Rest stops along the way were sponsored by area organizations. The best stop by far was the first one, around mile 15. The Red Hat Society of Arkansas City (and the county judge) provided sliced melon, homemade cookies, dried fruit, and cold drinks.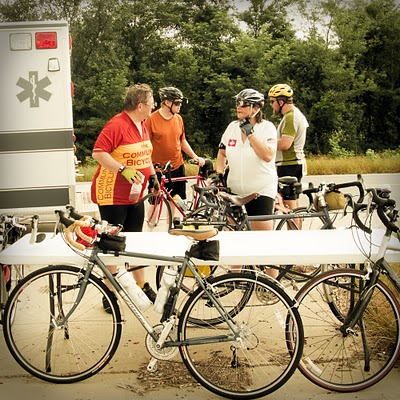 Sag support trucks were never far away, and an ambulance made the rounds too. It was clear that if anyone had trouble, help would be nearby. Food might not be, though — some rest stops had only weak Gatorade and warm pickles by the time we arrived, and there were no convenience stores or restaurants along our route. The weather was lovely. It was about 90 degrees, but the sun stayed behind clouds almost all day. Most of our route followed flat, two-lane rural roads, and though shoulders were narrow or nonexistent, the traffic was so light it didn't matter.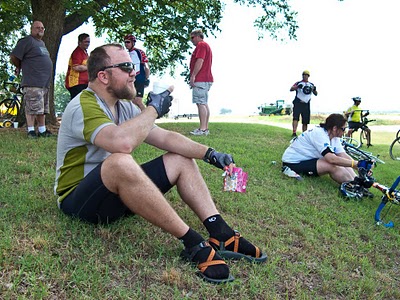 We hadn't brought much to eat, so our energy was flagging toward the end, and Bryan's legs hurt. My new Brooks saddle is beautiful but not yet broken in, so I wasn't totally comfy, either. We were both glad to get back to McGehee, where a handful of people sitting outside the Boys' and Girls' club clapped as we pulled into the parking lot.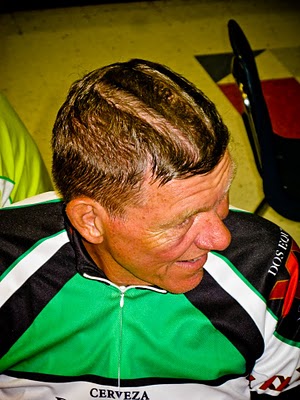 When Emil gets helmet hair, he REALLY gets helmet hair. We caught up with him, finally, at the end of the ride, when we shared barbecue sandwiches and chocolate milk. He's 67 years old and still using his original legs, but he's still faster than us.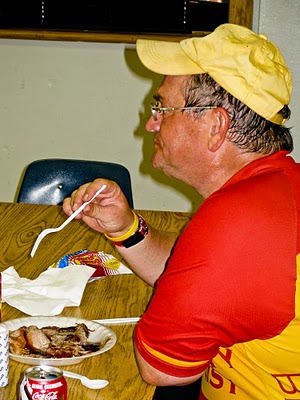 When I say "Our friend Tom is an excellent wind-block," I am not commenting on Tom's width. What I mean is that Tom is an understanding sort of fellow, who can see when Bryan's hurting, or when I'm frustrated with the wind. Tom just gets in front rides a straight line, at a perfectly even speed. You can put your front tire right on Tom's back, and he'll pull you in. And that, I think, is just about the best kind of friend to have.