Mandy and Kathy have spent the last couple of weeks getting ready for their trip to New York. Neither has been riding a lot, so now that Mandy's back from her trip to Tulsa, they've been getting together nearly every day to spend some time on the bikes.
It was a good idea, except that on Thursday, on the way home from their practice ride, Kathy's little grey Mini got rear ended on the interstate. The liftgate is crumpled, the bike rack is ruined, and – the worst news – both bikes are twisted up. Both front wheels look like flattish Pringles. Mandy's frame is only bent a little, but because of it the bike won't shift properly. Kathy's carbon fiber is dinged enough that two or three bike shop people have said it would be unsafe to ride.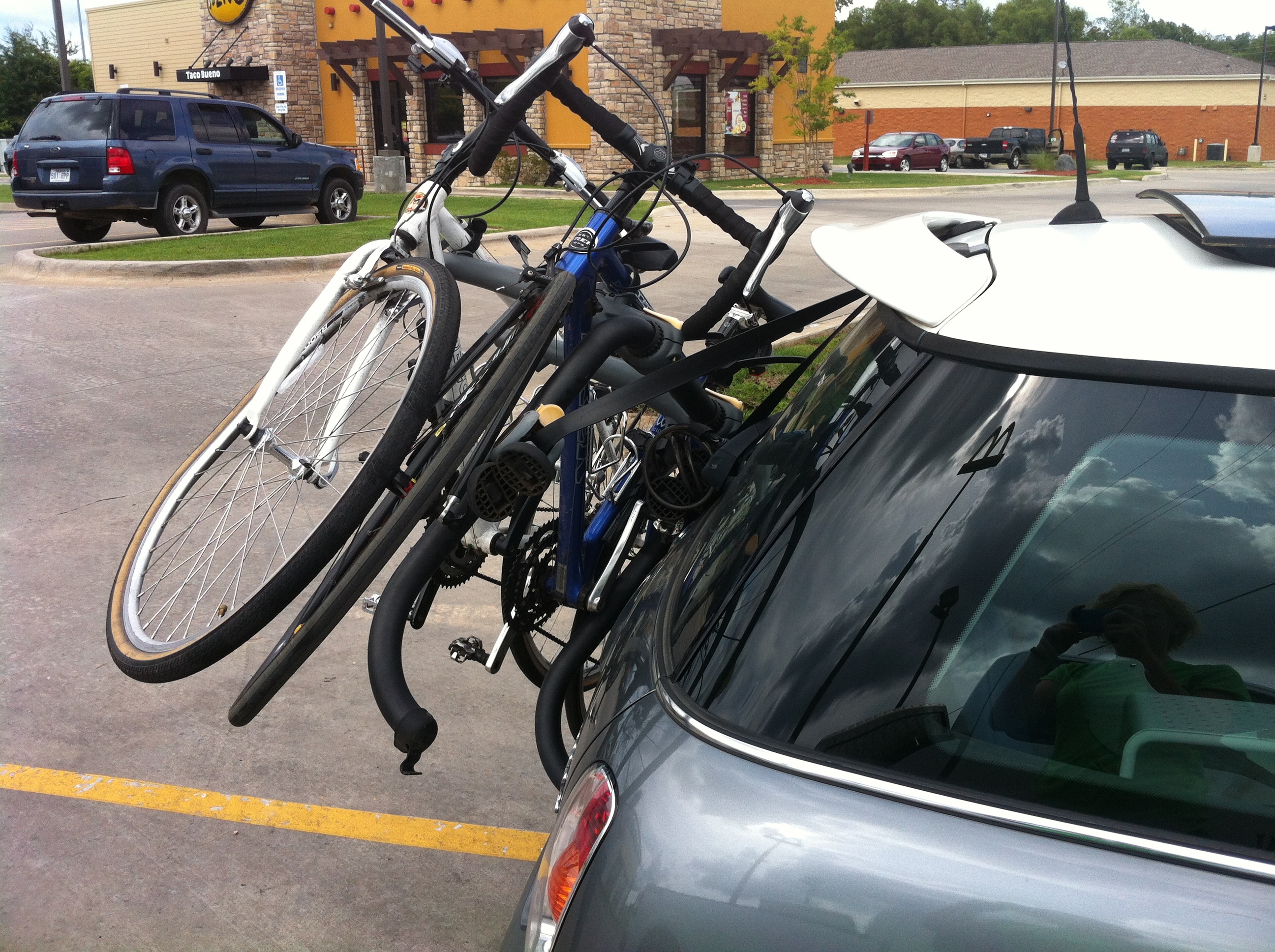 Which means that Mandy and Kathy had two wrecked bikes and only four days to replace them before leaving for a several-hundred-mile ride in New York state.
We set to work immediately, Signorelli-style, finding Mandy a new bike. She was about to outgrow the old one anyway, both in size and in usefulness, so we were willing to go ahead and upgrade things before even finding out what the insurance would pay for a replacement. We didn't have time to order online, so we made phone calls and visited local bike shops, trying to find bikes ready to roll in her size and our price range. We asked questions and made lists and talked to friends and read online reviews. By Monday we'd narrowed things down to a half-dozen bikes at a couple of local stores, and Tuesday night Adam Taylor opened up the Bowman Road Arkansas Cycling & Fitness so that we could make a decision.
We got a used bike, a five-year-old size-54 aluminum Cannondale cyclocross bike with a carbon fork. It fits her perfectly. It's already got road tires, and Adam swapped the stem for something a tiny bit shorter, and for now we'll leave the longish cranks on (though they may get switched sometime this fall.) She's got a full Ultegra gearset – this is as a much better bike than any of the new stuff we were looking at – and while it's not a pretty color it's a very serious-looking bike and she's absolutely in love with it.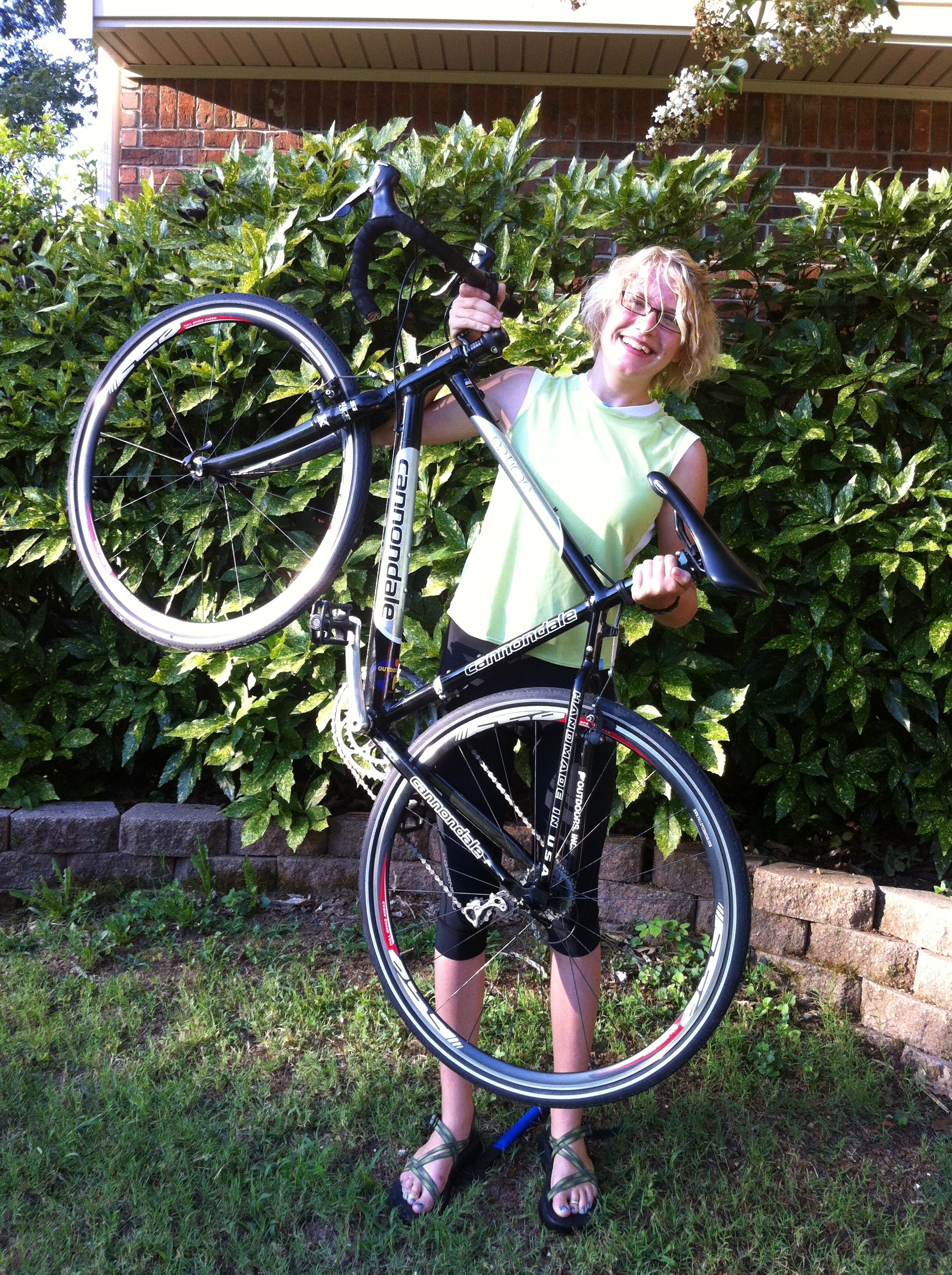 Kathy's insurance settlement is probably going to be a little more complicated – her wrecked bike is all carbon, and she bought it used, and the MSRP numbers aren't in her favor – but she went ahead and bought a new Giant carbon road bike. She's been pretty stressed about the accident, and the insurance, and the pospect of riding her steel touring bike on the New York trip wasn't making her happy. She seems pretty pleased about the upgrade.
It's been a more-complicated-than-expected few days, but everything's worked out just fine, and Mandy and Kathy are ready to leave on Thursday for their adventure. Here's hoping things calm down and they enjoy the train ride and the bike trip.
…
Postscript: The insurance people sent a whole big flatbed truck from a town over an hour away to pick up Mandy's wrecked bike. Seems like a little much, don't you think?