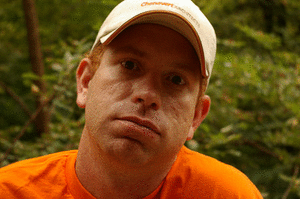 We're so glad we climbed last weekend! Early this week, David called me at work: he wants to come up. We spend Saturday happily climbing up and down at Horseshoe Canyon Ranch, at Cliffs of Insanity and the North Forty.
Mandy's proud moment of the day was climbing the first part of Man in Black, a 5.7 that even Bryan couldn't start without help. (She immediately fizzled and came down, but the first fifteen feet were impressive.) I was glad to find that one route I'd struggled to finish last week (Summer Rain, a 5.7 in the North Forty) was much easier this week. More importantly, the day included Denise's first outside route (Little Sprout, a 5.6 at Cliffs of Insanity), and David's first outside lead (Fesic, the 5.6 next to it). We stopped by the barn on the way out to try HCR's new speleobox, which is INCREDIBLY fun; Bryan couldn't stop giggling for the first half of the crawl.
We ate a late supper at the new pizza place in Jasper, which was followed immediately by projectile vomit from Bryan. (He's fine now.) We left Jasper around nine and were home and in bed shortly after midnight.