Remember that you can click on any of the photos to see larger versions of them.
We leave Benton at six and arrive late at Lake Eufala State Park. We get a nice, flat tent site far away from anybody else, and we set up camp in the headlights of the car. The bugs are terrible and it's very hot; we'd packed sleeping bags expecting chilly temperatures at elevation, and didn't really think about the night or two we'd spend in the muggy midwestern summer.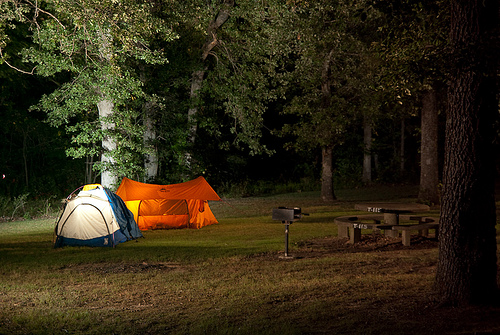 We wake up sticky and gross, but since we leave before seven, the campsite's "free". We stop in Okemah to see the first exciting roadside attraction of our trip: a row of three water towers helpfully labeled "HOT", "COLD", and "HOME OF WOODY GUTHRIE." The hand dryers in the Valero gas station bathroom are incredibly powerful: we giggle as the skin on our hands and arms flaps loosely. We're in a place we've never been before, and it feels like our trip has started.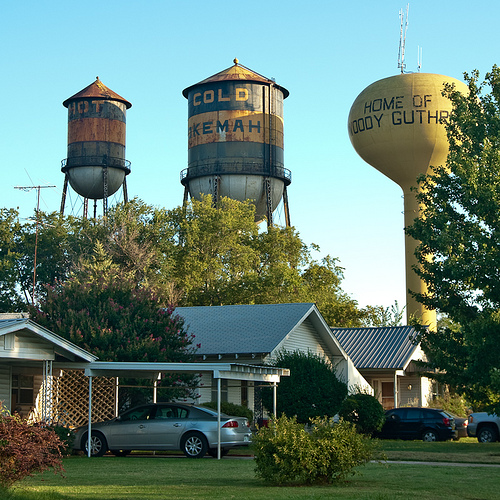 Bryan's been inexplicably excited about seeing the Oklahoma panhandle, so I helpfully drive so that he won't miss a minute of the tremendous excitingness of, um, not much. We play a game in which we have to find things starting with each letter of the alphabet. It takes nearly an hour and includes two minor arguments and such thrilling items as "C is for Cows" and "N is for Nothing."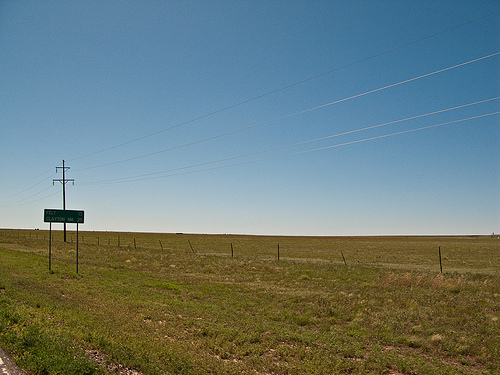 I don't mind driving on trips, I really don't, and I try to explain this to Bryan. What I mind is that, when he's the passenger, he's bored. He sings. He pokes people. He makes stupid trumpet noises with his mouth. He starts arguments about dumb things just to entertain himself. Today he discovered "licking by proxy," a technique in which he slobbers on his hand and then tries to wipe it on the driver. This is incredibly irritating and, more importantly, seems tremendously unsafe. I try to get him to drive as much as possible; licking by proxy is much more difficult if Bryan is the driver.
On the advice of a coworker, we eat at a ratty-ass motel diner in Raton, New Mexico called The Oasis Restaurant. The review I read had indicated that the food was good but that the carpet in the rooms was threadbare pink shag. (We chose this eatery over the one with the review that said "Bring a gun.") We all order from the Mexican side of the menu: Damn. Yum.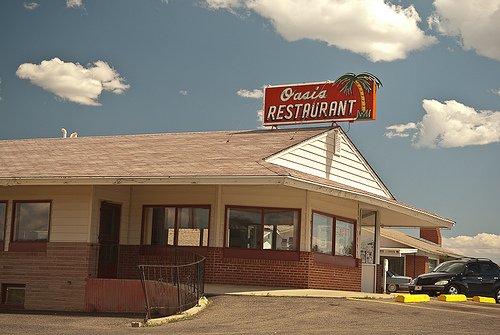 About bedtime, we arrive at San Luis Lakes State Park in Colorado at 7,500 feet. We add layers of fleece and down before setting up tents next to the corrugated-metal ramada. It's the tallest thing here; all the trees and bushes are waist high. We don't know what it looks like by day, but the nearly-full moon rising over the nearby mountains, over the lake, is beautiful.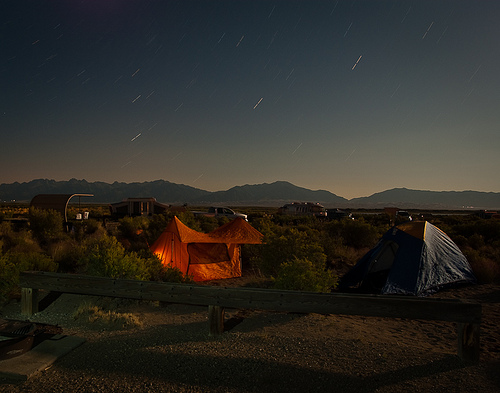 The story continues…
Part 1 – Part 2