In the back of my head, I've thought that mountain biking would be interesting to try but over the years I've never gotten closer than riding my Long Haul Trucker (LHT) touring bike on gravel roads near Lake Sylvia or in Newton County or riding my polo bike on a very flat beginner mountain bike trail while my daughter rode her mountain unicycle. My LHT is pretty nice on gravel roads because of Surly's "fatties fit fine" policy that allows me to fit fenders and 50mm tires.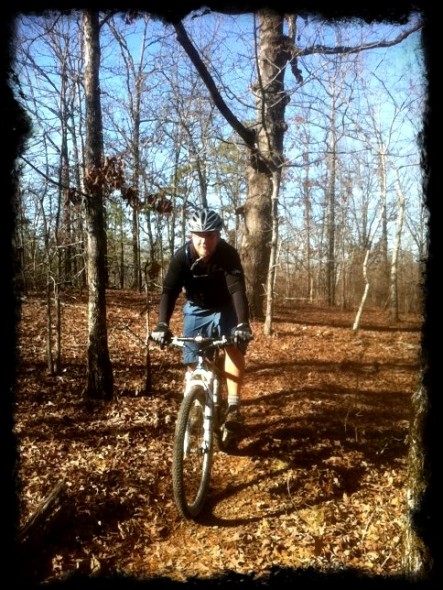 Over the last few months I've been asking friends all sorts of questions about mountain bikes like…
Full suspension, hard tail or rigid?
26″ or 29″?
Aluminum, Steel, Carbon or Titanium?
What's the difference between XC, DH, AM, etc?
Single speed, 1×10, 2×10, or 3×10?
Through the process of asking these and many other questions, I found out that I knew LOTS of mountain bikers. I didn't know this about them! They seemed like respectable road bikers and polo players! These friends who mountain bike have become a huge asset and I'm glad to have them.
One of these mountain biking friends (Adam T.) put in touch with another (Vinny F.) who was selling a bike with an interesting story for a good price. It was a baby blue 2008 Gary Fisher Paragon Vinny had purchased from another friend of ours (Michael H.).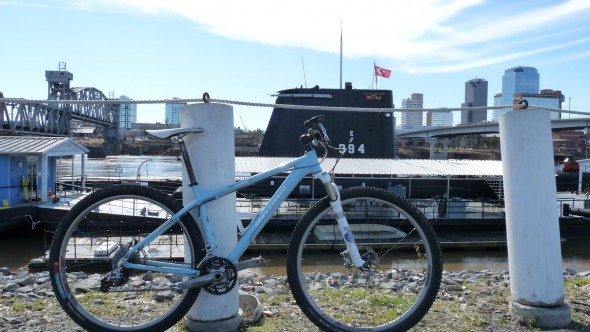 The Paragon, shown above, developed a crack in the seat tube. Trek, the company that now owns Gary Fisher, agreed to replace the frame with a 2012 Trek X-Caliber frame.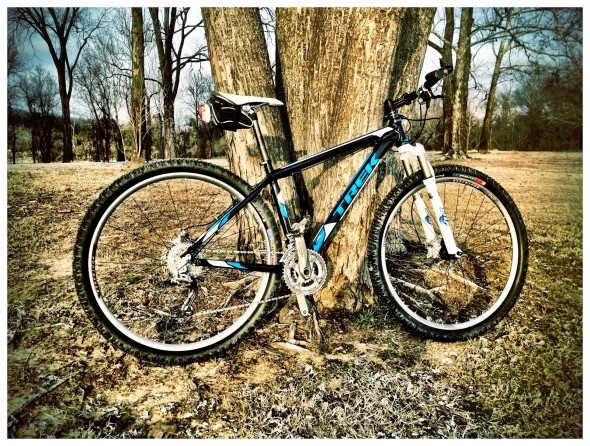 Vinny had the Paragon components put on the X-Caliber frame and he had the seals on the suspension fork replaced too, and I bought the sweet frankenbike shown above. It has nice parts from 2008 including SRAM X.9 shifters/derailers, Avid Juicy Five hydraulic disc brakes, and a 80mm Fox Racing fork. The first night I had the bike, I rode it to a new (to me) place along the Arkansas River. I had the unmistakable feeling, watching the sun set, that I was on the first of many mountain bike adventures.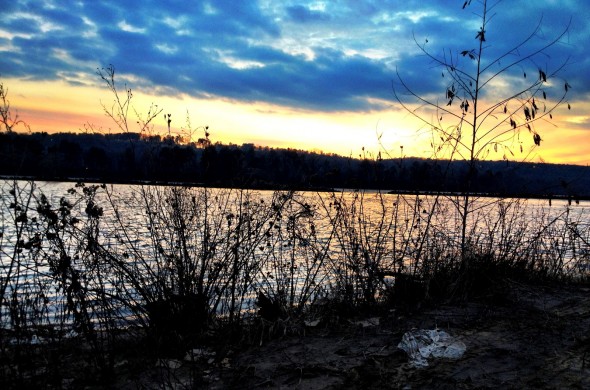 In addition to facilitating the bike purchase, my friends have made sure my ass has been out on the trails every weekend since buying it. It's been only three weeks, but I've logged over 50 miles on it riding the trails at Burns Park, Camp Robinson, Pfeifer Loop, and Cedar Glades. That doesn't sound like much to a road biker but to a n00b mountain biker (and his legs) it's a lot. Seven miles in Burns Park left me hurting for a few days!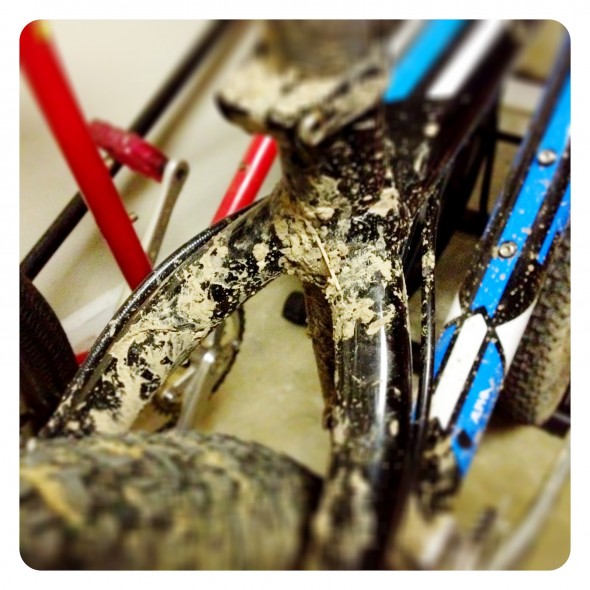 So I've gotten the bike dirty already. And I've washed it. And gotten it dirty again. We've ridden when the temperature was just above freezing. I've replaced the seat and brake pads and bled the brakes too. It's been fun so far and I'm enjoying the time with friends on new trails.