I wanted to start out fresh, west to east, to see if we could hike the whole 220-mile trail in a year or two. I even bought the newest edition of the Ouachita Trail guidebook, just for the occasion. We'd intended to take Martin Luther King's three day weekend to do section one. The 90% chance of rain on Saturday changed that, though, because none of us wanted to start out a January backpacking trip with a day of rain. The revised two-day hiking plan called for section three instead, starting from Queen Wilhelmina State Park.
In the parking lot there, we met a dayhiker from Texas. "How long have you been making HER do this?" he asked, gesturing toward Mandy, next to the car, fiddling with her hiking poles. I understand that most twelve year olds don't think carrying a 20-pound pack seventeen miles is a great weekend, but we assured him that Mandy was in the woods because she wanted to be.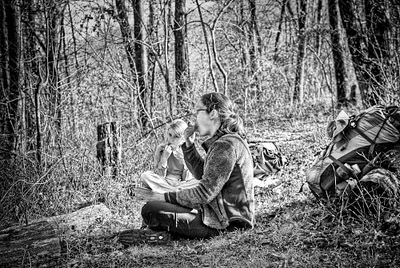 Before long we left our dayhiker behind, doing a pencil sketch at a pretty overlook. Some time after lunch, we picked up a cache of water we'd left near the FR 516 road crossing, and pumped our bottles and platys full, too, since day two's hike will be along a 'razorback ridge' with unreliable water supplies.
We camped in the creek bottoms past the crossing. Bryan and Mandy enjoyed their Mountain House freeze-dried beef stew, and Mandy expressed great disappointment that tomorrow night we'd be off the trail, so she wouldn't be able to eat the macaroni and cheese she'd picked out. I'm glad they like this stuff, but I still can't find freeze dried food I like. I'm going to start eating oatmeal for supper, too, I guess. We dutifully hung our food and toiletries from the trees. Since we found evidence of a previous fire we built a small one, too, though it was chilly enough that it really didn't help a lot.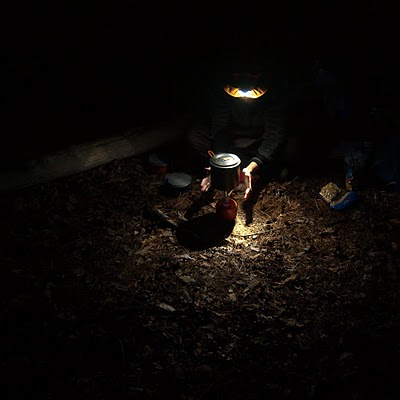 There are plenty of evident camp spots on this section of trail, many with fire rings. We saw one right next to an old, old stone wall mentioned in Ernst's trail guide. I can't help but wonder what story the wall could tell. Who lived here, way back when this narrow road trace was the way to school, or to the store, or to the neighbors'? How far away were those things? What was life like, in these woods, all those years ago? We run across evidence of people living here seldom enough that, when it happens, it's worth spending some daydream-time on.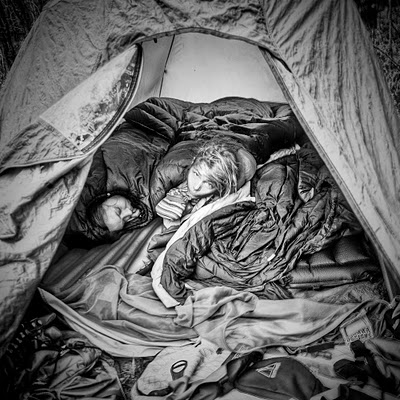 Day two's hike was similarly pleasant and uneventful, except for sore feet and tired hips. The weather was nice; quite warm for January, but still pretty chilly in the wind. Bryan, with his Adventure Watch, pointed out that we were finding the mile markers exactly a half-hour apart: we were still making two mph, even on this very rocky section of the trail. Just at dusk, we arrived at the Highway 71 road-crossing. We loaded up the truck and headed back to pick up the Subaru, and some supper, and to start the long drive home in the dark.