This is a multi-part trip report… if you haven't already, you should start with Day 1.
Start: Truth or Consequences, NM
End: Colossal Cave Mountain Park (AZ)
Daily Mileage: 288
Total Mileage: 1369
Bryan wakes up feeling much better this morning. The weather channel reports that it's 14 degrees in Benton and -6 in Brookfield. Even New Orleans is chilly, with a wind chill of 25. There are winter storm systems scattered across the country and a lot of people will get a white Christmas this year. We imagine the newspaper headlines:
Nation Shudders Under Winter Cold,
Snowfall Heavy Everywhere,
Civilization Sinks Into Carnage,
and the Signorellis Go Backpacking
We're glad we decided against Grand Canyon; the forecast lows for the rim this week are around zero.
The day begins with a shopping trip in Truth or Consequences. Bryan says this is the most beautiful view from a Walmart parking lot he's ever seen; I just wanted to get a high school t-shirt. I was disappointed to learn that when the town was renamed, the high school wasn't, so the only thing available was a "Hot Springs Tigers" shirt. (I'd been hoping for something like "Truth or Consequences Badgers".) On the way through town we discovered that the elementary school's name had changed, and their mascot is hilarious; I should mail a check to the PTO and ask for a "Truth or Consequences Kittens" shirt.
The drive to Tucson is interesting. We visit Hatch, the Chili Pepper Capital of the World. A dozen little stands are set up along the road selling wreaths and ropes made from dried chilies. We enjoy the break from four-lane travel for awhile. Small mountain ranges dot the landscape, each different from the next. The Sierra de las Uvas to the south are smooth, like giant, soft hills of dirt. The Greg Mountains are a series of short, rocky mesa hills to the north. As we continue west the ranges get bigger and rockier and more imposing.
Near Tucson we stop for a terrible lunch at Jack in the Box, which serves something called a "Teriyaki Bowl" apparently made from leftover rice and cat food. I swear I will never eat there again. We turn north off the interstate and head toward the park and suddenly, saguaros start appearing in the desert near the road, huge human shapes out in distance. We've finally arrived!
The elderly volunteer ladies at the visitors center are less than confidence inspiring when they answer our questions. "Backpacking? You mean camping? Out THERE?" Fortunately, a ranger named Jeff arrives in time to answer our questions and give good advice. We'll camp on adjoining private park land tonight, but we have some good ideas and backcountry permits for the three nights after that.
We spend the night at Colossal Cave Mountain Park, in the La Sevilla group campsite. It's old but sprawling and clean and we have it to ourselves. After a supper of pasta primavera and a very pretty little campfire, we're in bed early. We'll sleep tonight under the friendly mesquite trees, with the saguaros standing sentinel.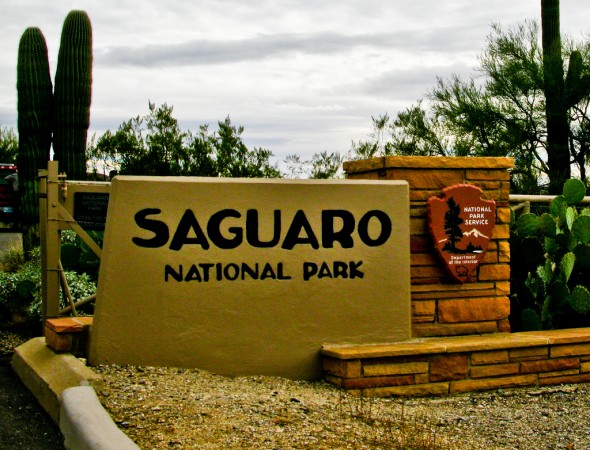 Entrance to Saguaro National Park (East side)
Our campfire at La Sevilla group site at Colossal Cave Mountain Park