We spent the summer learning about whitewater kayaking, but the drought in Arkansas has continued into the autumn and we've branched out a bit into doing things in calmer water. In the very first chapter of The Wind In The Willows, Water Rat told Mole "believe me, my young friend, there is NOTHING–absolute nothing–half so much worth doing as simply messing about in boats." We're finding that we really like messing around in boats, too, whether in challenging whitewater or quieter streams.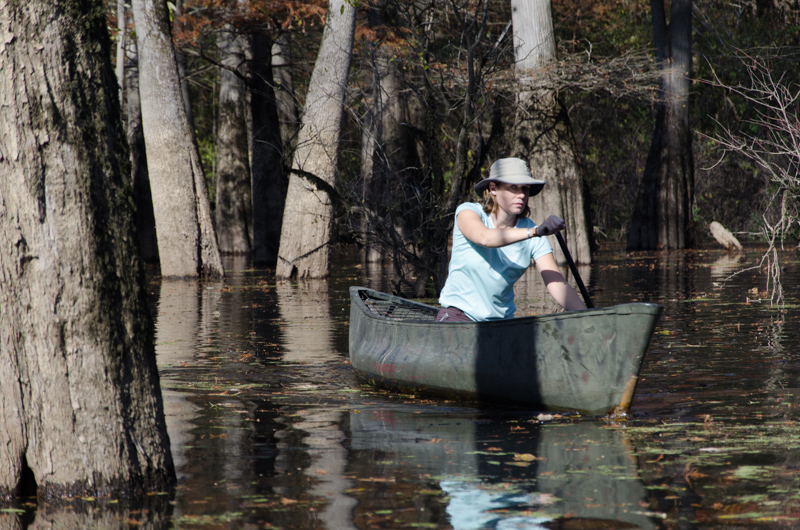 In September, part of the Caddo River was high enough to float, so we joined a group of friends to do a little section of that waterway. The river was calm and easy, but we were ill-prepared for the trip because we'd assumed that the group would float the short section straight through. While they ate fried chicken and big thick sandwiches for lunch, we played in the water. Next time we'll understand that they mean to spend the whole day paddling, and we'll pack a big complicated lunch as well!
(Please note: I haven't been taking a camera on the water, so almost all the photos in this post are from Bryan's camera on our Hurricane Lake trip. The tree-caving shot was taken at Wattensaw by Cowper Chadbourn.)
In October, a trip to Bayou Deview was revised because of low water levels in the swamp. I rode with Debbie Doss to meet up with Mikki White and Margaret Bartelt at Mikki's house, and we drove to H Lake, in the White River National Wildlife Refuge. I'd forgotten the seat for my Native, so I borrowed an old kayak of Mikki's, and it worked out just fine. It turned out to be a warm, pretty day, the trees were beautiful, the wolf spiders were enormous, and I really enjoyed getting to know these three veteran paddlers better.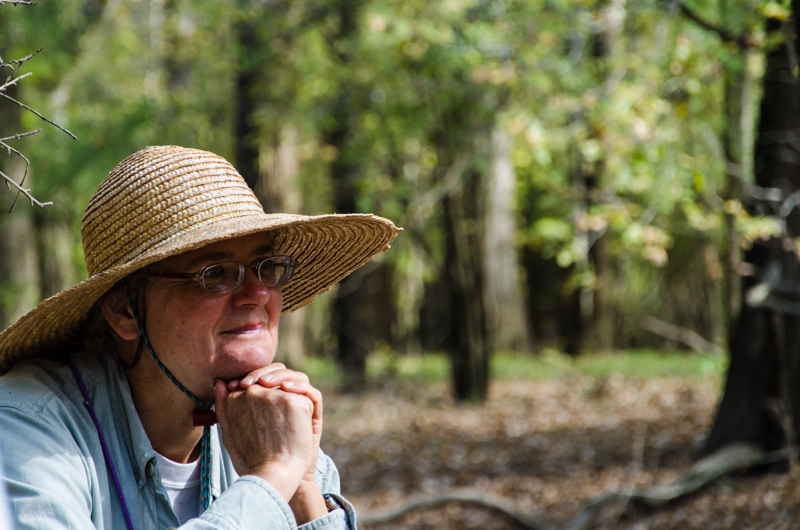 The next weekend, we participated in a cleanup trip on Polk Bayou in Batesville. Because of a weather-related reschedule, attendance was pretty low, but that meant that we each could contribute some meaningful help to picking up trash along the stream. We ended up with ratty boards, barbed wire, old clothes, a soggy comforter, dirty diapers, screen wire, and all kinds of bottles and cans. The area around Batesville was an old friend when we were caving there a lot; we found that it was satisfying to go back to do some other useful thing there. We ate supper at Kelley's, the first restaurant where Bryan and I shared a meal back before we were dating. It was a good day.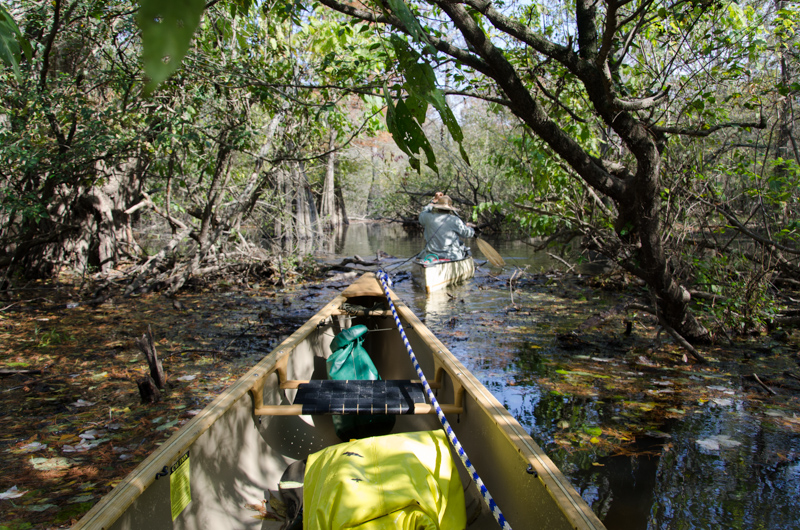 Bryan and I had a chance to visit Hurricane Lake in early November with a small group of paddlers. Because we only have one boat that's open – which helps a lot when getting in and out to cross beaver dams and low spots – we've been thinking about canoes. We were given the chance to borrow two different canoes for this trip, which gave us some valuable insight into the kind of boat that's useful for paddling in a swamp. It was another beautiful day in another part of Arkansas we'd never explored before.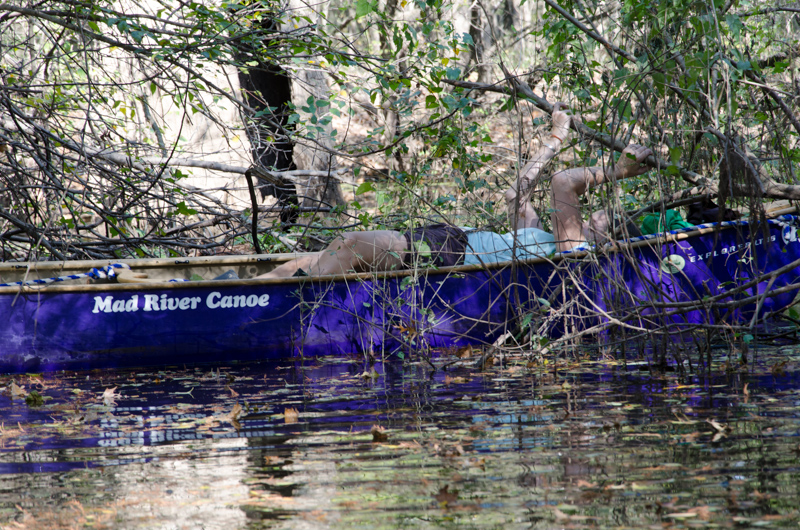 Apparently it's important to be prepared for something less than easy paddling when visiting these places. On this trip, we had to wiggle our way through several tight spots, with branches and brambles almost choking the way through. We could see why some of these folks carry saws and loppers with them!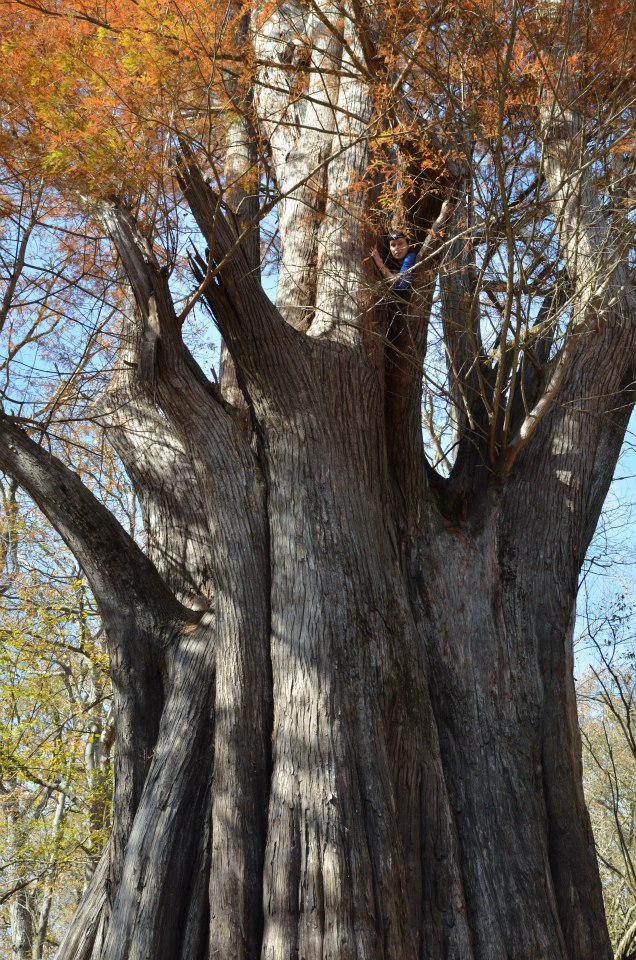 These swampy places have lots of enormous old cypress trees with hollow trunks. Since the water's low, the bases of many of the trees are exposed, though they'd usually be underwater. On a trip to the Wattensaw WMA, we saw that one of the very largest old trees had a little gap at the very base, and a cavernous interior. Our friend Cowper decided that a little exploration was in order, and he inadvertently stumbled upon a phrase no caver can ignore: "Hey, Aly! I wonder if you can fit in this hole?" We were both able to climb most of the way up inside the trunk and peer out open spaces in the sides. I even climbed out a 'window' and stood in a crotch of the tree, just to see if I could do it. Tree-caving. Who'd have expected that?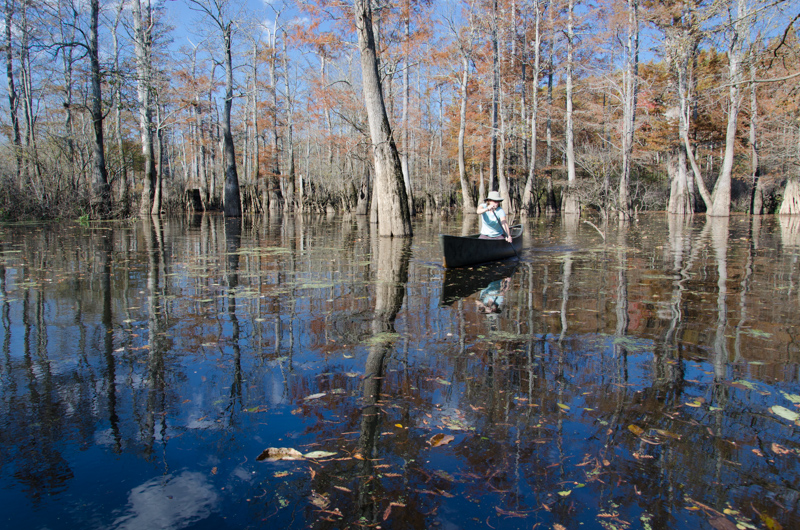 I had been joking that there was some sort of curse that prevented me from visiting Bayou Deview. Several times over the past few months, when it looked as if I'd be able to go there, something had happened to prevent my going on the trip. Either I'd have to stay home, or the low water would mean the group visited another place, or the trip would be cancelled altogether. Finally, in mid-December, the water level rose, I felt all right, and the swamp gods smiled upon me – I got to go to Deview. I paddled the Native again, which works well for swampy trips. And the place was just as pretty as they'd said it was.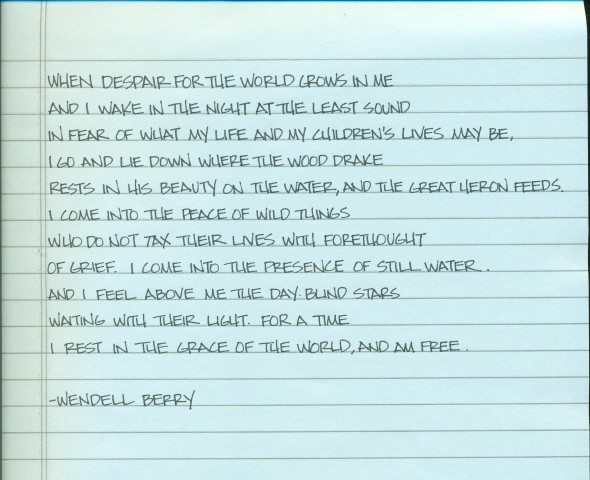 The truth is that I've had a rougher-than-usual autumn. I've felt bad far more than I've felt good. But every single time I've had the chance to paddle on quiet water, the sunshine and the big trees have helped ease my mood, even if only for a little while. I'm grateful to have these wild, still places.