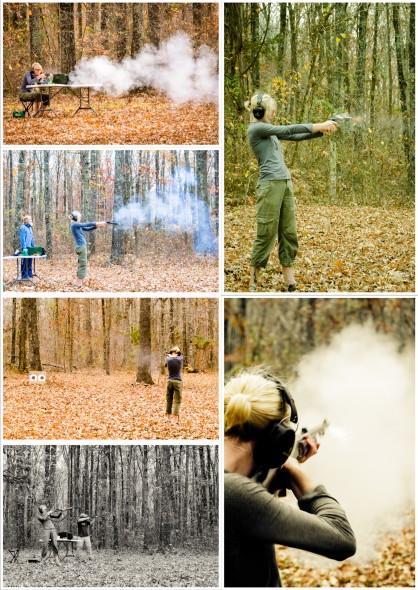 Mandy's been deer hunting several times this autumn with our friend Jarion. At first we thought she was interested in hunting just because she likes to try new stuff, and we supported that, as we always try to do. We figure that, as parents, part of our job is to let Mandy nose around and do lots of different things so that she'll have the opportunity to figure out what she really enjoys.
We were a little surprised to find that, after getting up early to sit soddenly in the cold rain for a morning or two, she still really wanted to hunt. We scratched our heads a little at that, but Jarion was a very good sport about being willing to continue taking her along, so we continued to make time for her to go . "It's not called deer SHOOTING," they said. "It's called deer HUNTING."
She likes being outside, and she's been more and more interested lately in taking up hobbies and making friends that give her a little distance from her parents. And apparently she's come around to the opinion that she'd like to eat more animals that have lived outside and had a happy life and a quick, merciful death. It's turning out that all those things add up to a real desire to learn to hunt.
During this past visit to Bryan's parents' house, she mentioned to her Grandpa JD that she'd been hunting, and the subject of guns came up. She didn't have one, she said, and while she'd like to buy a gun sometime in the future, for now she was fine with just borrowing from her friend. Grandpa JD pulled Bryan and I aside and asked if he could give her a new muzzleloader – he'd bought it awhile back but hadn't used it, and it was still sitting new in the box. After a couple of phone calls to Jarion, to be sure this was a gun he was comfortable with and that he wouldn't mind keeping at his house, we accepted.
So for an early birthday present, Grandpa JD gave Mandy a really, really pretty Lyman Mustang muzzleloader. (It even reviews well. -Bryan)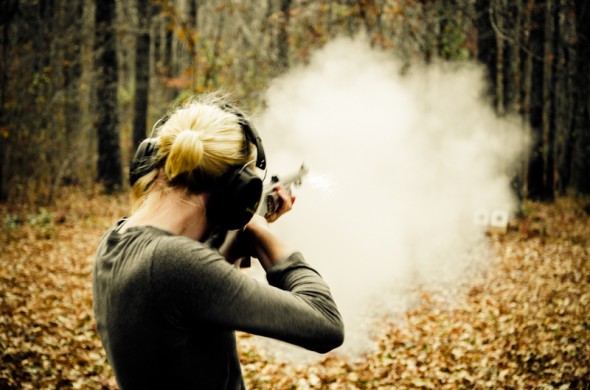 This weekend, Bryan and Mandy went with Jarion to his dad's place to shoot. He took his guns, Mandy took hers, and his dad brought out a few odds and ends to shoot as well. They took turns shooting targets and then switched to clay pigeons. I think she's charmed by the idea that her gun isn't 'the usual' choice for a first firearm, particularly for a teenaged girl. I think she likes the extra trouble it takes to shoot and the extra time needed to take care of it. She likes the kick. She likes the smoke.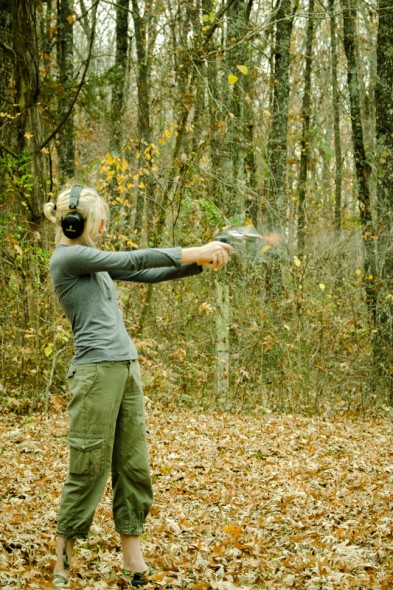 Turns out she's a decent shot with most all the guns, especially considering that she's done very little of this sort of thing, but she's best with her own. She was serious about helping clean all the guns after shooting them, which is only fair and will help her get comfortable with the way they work. I don't object to her having a gun – in fact, I'm glad she's having a chance to learn to be comfortable with handling and using firearms. It's something I think everybody should have some knowledge of, and I'm grateful to her grandpa for giving her this first gun, and grateful to Jarion for helping her learn to handle it responsibly.
Bryan and I changed our birthday-present plans for her and bought a nice Nikon scope for the top. How much will she end up liking hunting and shooting? Will this become a primary hobby or a minor pastime or will it be set aside as new things come along? We'll have to watch and see where the trail leads her.