Mandy's only concern about selling the GTT was that it would leave her with no bike to ride – she's been too big for her last pink-and-purple Schwinn for at least a year now, and still too small for anything else in the garage.
So Bryan did a little shopping online and found a good deal on a Motobecane cafe bike. It's got thin "road" tires but flat bars. We measured for frame size and chose something almost but not quite too big. She approved the color (black and white, emphatically NOT THE PINK ONE), we placed the order, and two days later a big box was delivered.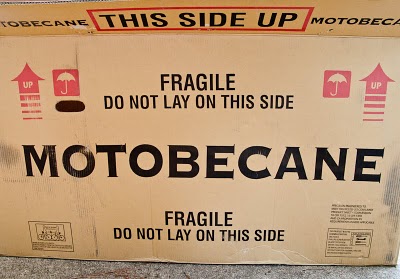 She grew enough in those two days that the bike fits her perfectly. We put my old Terry saddle on it, which works well for her. After her first 30+ mile ride, her only request was a change in handlebar grips, so Bryan ordered some Ergons with bar ends, and she loves them. He surprised her with a bike computer, too. We added a rack and the white Ortlieb bags she picked out. Mandy's ready to roll.