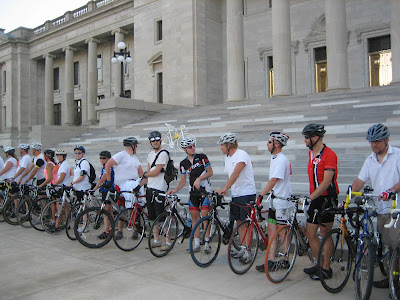 Photo by Judy Lansky
In May, every year, there's an international event honoring those cyclists killed while riding. This year's local event saw about 75 local cyclists riding silently, in pairs, from the Clinton Library to the state Capitol. We wore white shirts, and on our backs we pinned cards with the name and age of a fallen bike rider.
I rode for a young man killed just this last month, run over in anger. He'd made a mistake but he didn't deserve to be killed for it. My friend Lisa wore the name of a six year old girl. We don't know her story, but we know her life ended far too soon. Others rode in memory of friends – Marilyn Fulper, who was killed by a car at the top of River Mountain Road a couple of years ago; Sam Avery, a hit and run while on a group ride recently. Others rode bearing the names of people we don't know, and never will.
At some point, we're all cyclists. We all start out as little kids, teetering down neighborhood streets on our first two wheelers. Some of us end up as serious racers, and others ride to improve health. Some just need a bike to get to work or to the grocery. We all ride because it makes us feel good. We're willing to take the risk. We know it's there. We're all out on the street, vulnerable, and it's fitting that we rode tonight to remember those who have been killed.
I've always wanted Little Rock's Ride of Silence to be a more visible event. This year's was a little better than we've done in the past, and I hope that trend of higher visibility and meaning continues.