This is a multi-day trip report, so if you haven't already started at the beginning please click here to read from Day 1.
When I got down to Veterans at 6 am, wearing a coat and a jester hat, most of the grass at the edge of the neutral ground was already staked out. Either people had left blue tarps out all night, held down by ratty lawn chairs, or they had stayed out in person to reserve a spot. People in lawn chairs and blankets were everywhere, still trying to doze in the early morning cold.
I walked a couple of blocks before finding a square of unclaimed grass in the neutral ground, but there were some stakes lying on the ground nearby. I texted Bryan "have found a good spot but am unclear about property rights; please advise."
Some guys walked by across the street, carrying cases of cheap beer and yelling.
"I like your hat!"
"Thanks."
"Where'd you get it?"
"Really, I have no idea."
"Yeah, man, I'm like that about most things. Happy Mardi Gras!"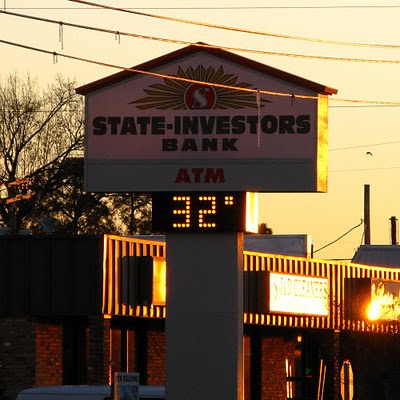 Bryan arrived a few minutes later, with a ladder, and we staked out our family's square of grass with chairs and a ladder. We built a little perimeter with beads left on the ground from the night before, and we waited together until about ten am when his cousins arrived to take over.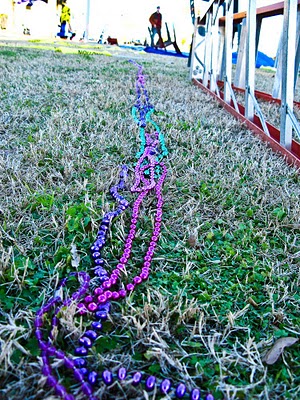 Our little square of grass slowly filled with people. Beth and Jeff had arrived with baby Lucy, and even Grandma Schambach and Aunt Dot came out to watch the parades. Our spot was near the end of the parade route, so the Argus parade didn't reach us until about one in the afternoon.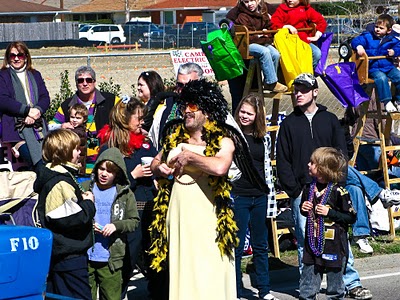 The bands and marching groups were a little tired-looking. They were near the end of the last parade of the last day of the carnival season, and I think most of them were just ready to be finished. But the floats were still funny and the riders were anxious to get rid of their last toys and beads before the end of the parade.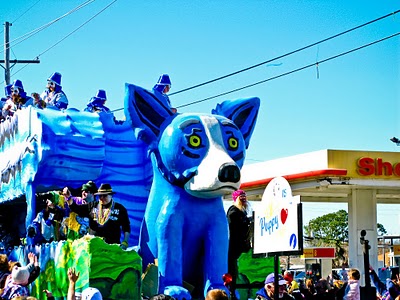 We got daiquiris from the daiquiri store's walk-through window. I hadn't known that "Octane 190" was a FLAVOR.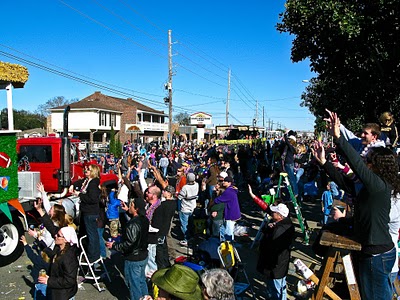 Mandy enjoyed watching everyone from her perch at the top of her ladder. She'd made a "My First Mardi Gras" sign with posterboard, hoping for more throws, but she quickly abandoned it in favor of a bulls-eye.
Lucy watched the proceedings calmly and with great interest. She seemed to really enjoy all the people and the activity around her.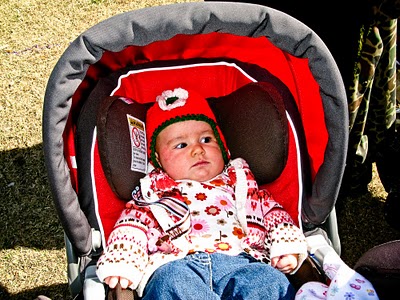 After the "traditional parade" of the Krewe of Argus had passed, the Jefferson and Elks Jeffersonians truck parades followed, each with about 75 floats. Aunt Dot went home. We caught wads of beads. I managed to get a feather boa for Mandy. Grandma Schambach survived being crashed into by a guy trying to catch a Saints football. Lucy fell asleep. The parades ran together into a sort of colorful, hours-long blur of loud music and screaming people and things flying through the air.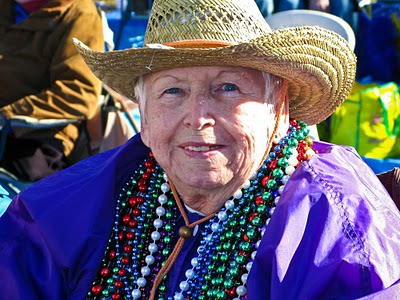 And then the parades were over, and people went home. Bryan and I walked back down to Veterans, which was still closed. The street was empty except for the trash left by the crowds: food wrappers, cans and bottles, plastic bags, and beads were everywhere. It looked as if drunken clowns had exploded in the street. Bryan sat in a folding chair someone had left, and a young man in a toga sat next to him.
Toga Dude: "Whatcha doing?"
Bryan: "Waiting for someone."
TD: "Yeah, man, me too."
TD: "Do you see those girls over there? They're pretty hot, aren't they?"
B: "They're cute, I guess."
TD: "Think we can get a lap dance?"
B:
TD: "HEY, OVER HERE! LAP DANCE! PLEASE!!"
TD: "Hey, man, if want to, lets go right now and get a shot." (motions to bar across the street)
About this time I came back, and Toga Dude stood up and introduced himself.
TD: "Hey, I'm Ivan. I've been friends with him forEVER."
Toga Dude/Ivan wandered off to warm up in the aforementioned bar while Bryan explains to me what just happened.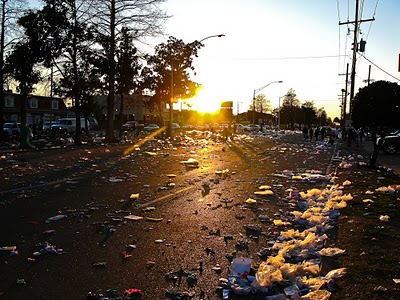 This photo was taken near sunset on Veterans Memorial Highway after the Metairie parades on Mardi Gras Day.
And how do they clean up the awful mess? Here's a time-lapse video of the Last Parade, with a special appearance by Ivan (look for the toga at the 37-38 second mark):
http://vimeo.com/moogaloop.swf?clip_id=9568951&server=vimeo.com&show_title=1&show_byline=0&show_portrait=0&color=00ADEF&fullscreen=1
Here's the final photo of our Mardi Gras loot, all 145 pounds of it. As always, click on the photo to see it larger.