Several polo players have been saying they'd like to go backpacking, and somehow our schedule shifted and gave us a free weekend, and we thought that sounded like a good plan. Bryan brought maps, I brought food, and Mandy brought plastic pirate gear.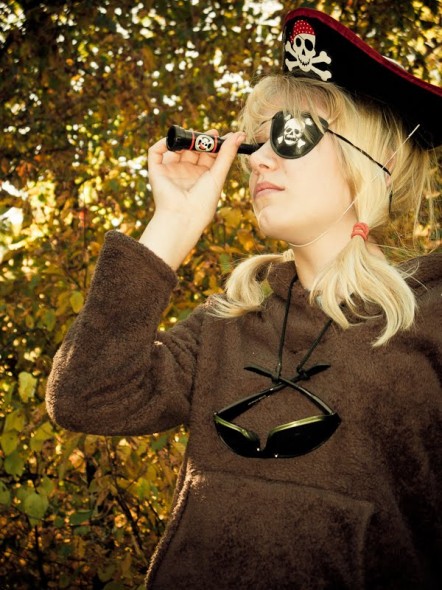 Our original plan was to hike section seven of the Ouachita Trail. It's a pretty 20(ish) miles, and climbs up and over Blue Ouachita Mountain. But it hasn't rained in awhile and nearly all of this section of the OT is high up, crossing the tops of some drainage areas. The trail shelter is near a spring that doesn't run all year. So almost at the last minute we realized that since we didn't want to carry two days' water, section seven wasn't a good plan, and we switched to section six instead. Section seven isn't as high up, and it would allow us to spend the night at a shelter near a substantial stream.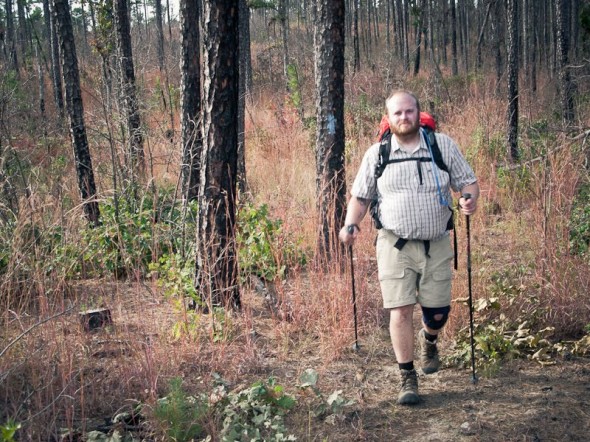 Adam has some knee problems, but he's a good sport and wanted to try the hike. He brought two or three different knee braces and a lot of pain medicine.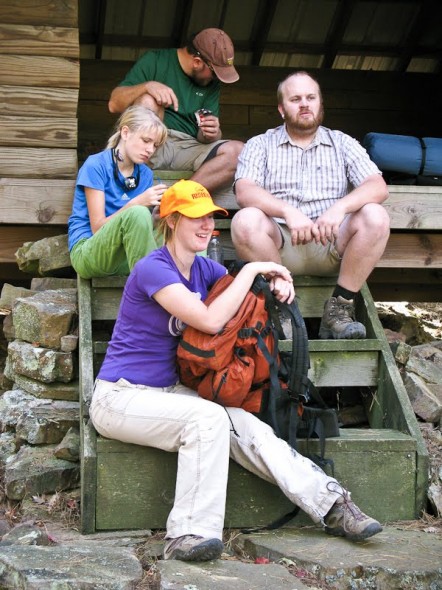 We hiked about six miles on Saturday before arriving at the trail shelter, a simple wooden structure with almost four sides. The shelters on the OT are handy for people who may not have lightweight backpacking tents, or who may just want a break from carrying them. If the weather's bad, it's nice to have a tin roof and a wooden floor, instead of a drippy nylon tent. And no matter what the weather, picnic tables are handy.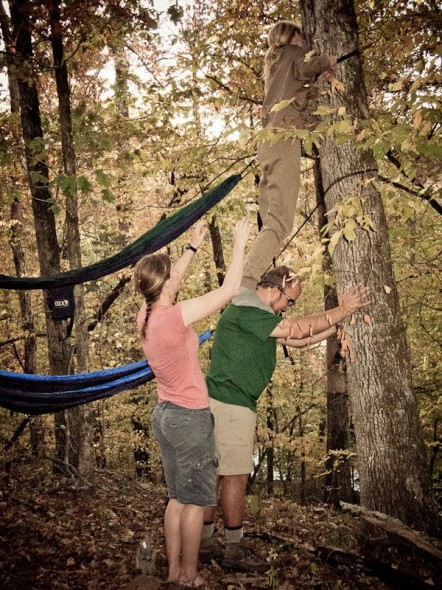 Ruth and I both brought our ENO hammocks. Mandy was called into service (dressed in her lovely military longjohns) to help hang the higher hammock.
Ruth taught us how to flip from one hammock into another, and a great deal of the in-camp entertainment involved watching Mandy and Ruth attempt to do this at the same time.
Our decision to change plans, to the lower section of trail, was a smart one. Not only did we have a creek to play in after a long day of hiking, but there was water to pump for supper and for breakfast the next morning, and there was water at lunchtime on day two as well.
It's been a busy autumn for all of us, and I think we all enjoyed getting out of town and into the woods for a couple of days.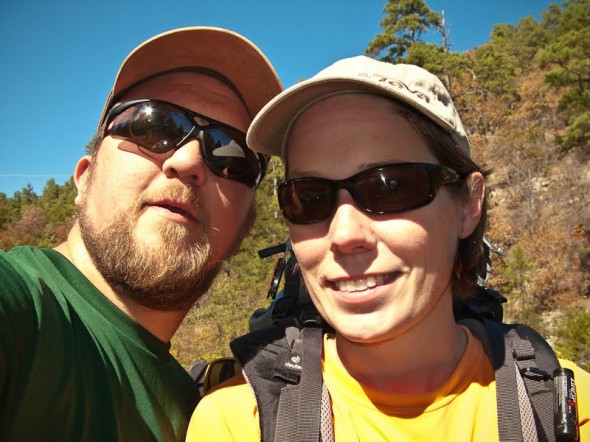 We'd had a late morning start on Sunday, and at almost suppertime Adam's knee was starting to give out with nearly five miles to go. Ruth, Vinnie, and Mandy still had a lot of energy, so we decided to split up at a road crossing. Bryan and I stayed with Adam and all six packs. We loaded up the others' pockets with snacks and a small first aid kit. We made sure they all had jackets and water and headlamps and a map. When they left, we set up our hammocks and waited.
They finished the trail in just under two hours, running a fair portion of it. They got to the car, picked up the truck, had a snack stop at a gas station and a bathroom stop at a church. As we waited, we set up two red blinkers in the woods near our hammocks, so that they could find us easily. And sure enough, just as it got too dark to see easily, the Subaru and the pickup pulled up to take us to a good Mexican supper in Jessieville.